Mozart set his opera "Cosi fan Tutte" -- which premiered in 1789 -- in late 18th century Italy.
But when KU Opera debuts its production of "Cosi" Friday in the Robert Baustian Theatre, powdered wigs and leotards will be conspicuously absent.
That's because KU Opera's version will be set in 1950s Lawrence.
"I think part of the reason for that is because I'm new here, I'm exploring Kansas a bit artistically and also I'm a big William Inge fan," Tim Ocel says of the Kansas playwright. Ocel is associate professor of opera and artistic director of KU Opera, a new position created last fall.
"As I was doing homework on 'Cosi,' I was exploring Lawrence at the same time, and they kind of melded together as a good match. I talked to my set designer, who thought it was a good idea."
Ocel, 48, is stage director of "Cosi." He began work at Kansas University at the start of the academic year.
He maintains a home in St. Louis and has an apartment in Lawrence.
Ocel describes the set for "Cosi" as a "collage" that depicts a typical Kansas house, featuring a bedroom, kitchen and front porch -- as well as a space that represents a university office, used by one of the characters.
The plot, however, remains true to Mozart's original version of the opera.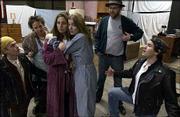 It tells the story of a philosopher, Don Alfonso, who makes a bet with two young soldiers that their girlfriends will be unfaithful to them while they're away at war.
The soldiers, in disguise, each woo the girlfriend of the other, and both women fall in love with the new suitor. So the soldiers lose their bet.
The change of setting to the 1950s Midwest, Ocel says, doesn't represent a problem.
"The boys in the military are actually American soldiers, and the war they're going off to would be the Korean conflict. We pretty rarely have to change the lyrics; most of what they sing and talk about is relationship oriented," Ocel says.
Obviously, there's no mention of Naples, the Italian city where the opera is originally set.
What: KU Opera in Mozart's "Cosi fan Tutte"When: 7:30 p.m. Jan. 28, Jan. 30, Feb. 1-2, Feb. 4-5 and Feb. 7Where: Robert Baustian Theatre (formerly Black Box Theatre), Murphy Hall, KUTickets: Adults, $15; students, $7Ticket info: 864-3982, 864-2787
The cast, which has six principals, plus a chorus of eight, will perform an English translation of "Cosi."
Mark Ferrell, KU Opera's music director, appreciates seeing original works thrust into more contemporary settings.
"When you're dealing with any timeless masterpiece -- whether it's Shakespeare or any piece of classical literature -- the emotions and the situations the characters find themselves in are universal," he says.
"Sometimes when you move a piece forward, closer to our own time, it makes the parallels (between the characters and the lives of audience members) more apparent. People aren't running around in white wigs and leotards."
Copyright 2018 The Lawrence Journal-World. All rights reserved. This material may not be published, broadcast, rewritten or redistributed. We strive to uphold our values for every story published.