Los Angeles — "American Idol" turned into the battle of the divas last season. This year, male contestants are getting a little help.
In a bid to freshen the Fox series as it begins its fourth season today -- and to even the playing field dominated in 2004 by female songbirds -- half of the 24 semifinalist spots are promised to men.
It's one of several revisions in the talent show that producers say will leave the format intact but, they hope, add catchy new riffs to keep viewers humming along as they choose the winner.
Fantasia Barrino nabbed the title and a record contract last year after duking it out vocally with La Toya London, Jennifer Hudson and runner-up Diana DeGarmo. Counting past winners Kelly Clarkson and Ruben Studdard, the series' score stands at: women 2, men 1.
Dividing by gender was tried successfully in international versions of the show and made sense this year because the U.S. audition field was evenly split between the sexes, producers say.
"We could create a group of girl finalists and boy finalists without feeling we left anybody who was good aside," said executive producer Cecile Frot-Coutaz.
For Fox, the program has been a shining star in a weak schedule. "American Idol" scored its best ratings among advertiser-coveted viewers aged 18 to 49 last year and ended as the No. 1 show among that group. (The finale audience, however, was smaller than the year before, about 28.8 million compared to 38.1 million for 2003.)
The judging panel remains unchanged: Paula Abdul, Randy Jackson and wasp-tongued Simon Cowell are returning, joined by a new parade of celebrity critics (this time around including Brandy, LL Cool J, Gene Simmons and Kenny Loggins).
Host Ryan Seacrest, who diplomatically handles good and bad performers and runs interference for Cowell's worst barbs, calls this a "pivotal year."
"There's a fine line between changing too much and keeping the show fresh," he said, predicting viewers will welcome the results.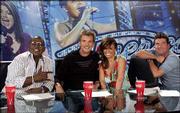 One unaltered element is the telephone voting system that had some fans crying foul as repeated efforts to call in and support their favorite were met by busy signals.
"Nothing's ever perfect ... but we have the best possible system out there," said Frot-Coutaz.
In past seasons a field of 32 semifinalists was broken into four groups of eight. One group would compete each week, with two singers chosen for the finals; a wild card show added two more for the top 12.
The audience was at least mildly confused, research found. And continuity was lost as those named finalists in the early going were away from the show for up to a month.
Major changes and scheduling:
The age ceiling for contestants has been raised by four years to 28 to encourage diversity.
The audition rounds, in which the talented and hapless do their a cappella best, will last longer, three weeks vs. two weeks. Contestants will be culled further in two weeks of episodes taped in Los Angeles. "We're going into some of these people's homes, into their lives, follow their journey a bit more," Frot-Coutaz said.
Celebrity judges will be part of the audition segments for the first time but will have less of a presence during the studio episodes. Room would be made for a big-name artist -- Paul McCartney is No. 1 on the most-wanted list -- whose music is part of the competition.
Performance and live elimination rounds will begin Feb. 21, five weeks into the season. The 24 semifinalists will be pared to 12 during a three-week period in which the show will air three times a week. The men compete in one, the women in another, with results announced the third day.
Cross-gender competition begins March 15, when the program returns to twice-weekly airings, with the finale May 24-25.
Copyright 2018 The Associated Press. All rights reserved. This material may not be published, broadcast, rewritten or redistributed. We strive to uphold our values for every story published.