Adults and children were falling all over themselves Monday afternoon in Buford M. Watson Jr. Park, but nobody cared.
Thanks to recent frigid temperatures, a makeshift ice rink at the north end of the park became a popular place for daredevil sledders, hockey players and skaters. Only a few had on ice skates; most wore snow boots.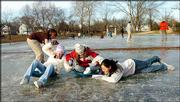 "Well, it's Kansas," said Stu Strecker, Lawrence, who was one of those without skates as he enjoyed sliding on the ice with his 9-year-old daughter, Lidia Strecker.
"I fell down three times," Lidia said, pleased that she hadn't fallen more often.
Last week the Lawrence Parks and Recreation Department flooded ground near the park's locomotive display to create the skating rink. Mother Nature did the rest. Late Monday afternoon -- with Lawrence schools out on the Martin Luther King Jr. holiday -- about 30 people were on the ice.
"It's really nice of the city to do this," said Shawn Hastie, Lawrence, who also tested the ice while wearing boots.
Stephen Vanderlinden and his son, Elijah Vanderlinden, 7, used hockey sticks to slap a puck back and forth across the ice as easily as if they were playing catch with a baseball in the back yard. Both are hockey fans, they said.
"Usually we don't get a chance to play on ice very much," said Stephen Vanderlinden, of Lawrence, adding that they usually had to play on paved surfaces . "We like to watch a lot of hockey."
"It's a lot of fun," Elijah Vanderlinden said.
Brandon Stogsdill, 6, also was in a hockey mood, but he came equipped for a variety of ice activities. In addition to a hockey mask and ice skates, Brandon had a small sled with him.
"I'm coming back tomorrow," he told his mother, Reenie Stogsdill.
Chances are the ice may begin melting later today, as the high temperature is forecast in the low 40s. By the end of the week afternoon high temperatures could reach the 50s.
Copyright 2018 The Lawrence Journal-World. All rights reserved. This material may not be published, broadcast, rewritten or redistributed. We strive to uphold our values for every story published.