Minneapolis — Doynell Marshall's sharp shooting made the Toronto Raptors a winner in Minnesota for the first time in franchise history.
Marshall made six three-pointers and scored 22 points, leading the Raptors to a 100-91 victory over the Timberwolves on Monday.
The Raptors beat the Timberwolves for the first time in Minnesota since entering the NBA in the 1995-96 season. They were 0-8 before Marshall -- the Timberwolves' first-round draft choice in 1994 -- shot 6-of-8 from three-point range and scored 11 points in the fourth quarter to hold off a late rally by the Wolves. Toronto snapped an 11-game road losing streak overall, one shy of the club record.
"I just fell into a groove early, and even when I missed, I still felt good -- I didn't miss by much," Marshall said.
Rafer Alston and Chris Bosh worked the pick-and-roll to near perfection as the Raptors raced to an 18-point first-half lead. Alston scored 18 points and had 15 assists, while Bosh posted 19 points and 11 rebounds for Toronto, which has won four of five.
"I want Rafer to frame that stat sheet," Raptors coach Sam Mitchell said. "Fifteen assists, two turnovers, but only three three-point attempts. That's the thing we're trying to get him to understand. He's getting better at it. He's listening. As quick as he is, he has to keep pressure on the defense by turning that corner. When he turns that corner, most of the time good things happen."
Wally Szczerbiak led the Timberwolves with 25 points, and Kevin Garnett added 20 points and 14 boards for Minnesota, which fell to 3-7 in January.
"When you're going through difficult times, you have to always keep in mind that things could be a lot worse," Garnett said. "At this point, patience is the only thing we have to grasp. We've just got to continue to work hard."
Minnesota jumped to a 13-6 lead, but the Raptors surged ahead with a 24-7 run. Bosh and Alston combined to shoot 9-for-10 in the first quarter as Minnesota struggled to shut down Toronto's pick-and-roll offense.
Toronto built its lead to as much as 18 in the second quarter thanks to a major disparity in three-point shooting. The Timberwolves missed their first 12 three-pointers and were 0-for-7 from behind the arc in the first half, while the Raptors hit six of eight threes in the first half.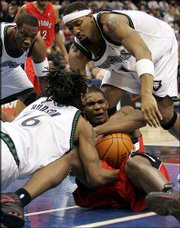 "That was the difference in the game," Szczerbiak said. "We were 1-for-16 on our threes, and they were 10-for-20. That's a tough discrepancy to overcome."
Pistons 94, Suns 80
Auburn Hills, Mich. -- Tayshaun Prince scored a career-high 26 points to lead Detroit past reeling Phoenix, the NBA-leading Suns' fourth straight loss. The Suns were held to a season-low point total and clearly missed Steve Nash, who was sidelined for a second consecutive game because of a bruised left thigh. The point guard hopes to play Wednesday at home against Memphis. After opening the season 31-4, Phoenix has gone 0-4. The Pistons are headed in the opposite direction, with six victories in a row.
Bulls 88, Knicks 86
New York -- Ben Gordon scored on a driving eight-footer with one-tenth of a second remaining to give Chicago a victory over the Knicks, extending the Bulls' winning streak to seven games. The string of victories is the longest for Chicago since the 1997-98 team won 13 straight. Luol Deng led Chicago with 19 points, Kirk Hinrich had 14 points, 13 rebounds and eight assists, and Andres Nocioni came off the bench to add 13 points and 11 rebounds.
Spurs 101, Wizards 73
San Antonio -- Devin Brown scored 24 points, Tony Parker added 23, and the Spurs shut down Washington's top scorers in ending the Wizards' seven-game winning streak. San Antonio jumped to a 21-2 lead, and the Wizards were not able to get any closer than 13 points in their first loss of 2005. The offensive output was a season low for Washington, which had scored 100 or more points in its last 10 games.
76ers 95, Hornets 91
Philadelphia -- Kenny Thomas had 21 points and 15 rebounds, Allen Iverson scored 29, and the 76ers nearly wasted a 25-point lead in the fourth quarter before beating New Orleans. Corliss Williamson added 16 points for the Sixers, who are just 17-20 but moved into a tie with the Knicks and Celtics for first place in the Atlantic Division. New Orleans played without leading scorer Baron Davis, who bruised his right ankle in Sunday's loss to Toronto.
Bucks 99, Bobcats 92
Charlotte, N.C. -- Michael Redd scored 27 points to help Milwaukee break its four-game losing streak with a victory over the Bobcats. Desmond Mason added 16 points, Dan Gadzuric had 13 points and 10 rebounds, Joe Smith scored 12, and Mike James had 11 for the Bucks.
Nets 85, Hawks 84
Atlanta -- Jason Kidd scored 19 of his 23 points in the second half, and New Jersey ended a four-game losing streak with a victory over the Hawks. Vince Carter also scored 23 points for New Jersey, which broke a five-game road losing streak. Al Harrington led Atlanta with 22 points. Tyronn Lue added 17.
Kings 89, Clippers 83
Los Angeles -- Chris Webber scored 23 points, and Cuttino Mobley hit a clutch three-pointer with 59.6 seconds left, leading Sacramento over the Clippers. Mobley scored 19 points in his second game with Sacramento, following the trade of Doug Christie to Orlando on Jan. 10. Sacramento has won four straight overall and eight of 10.
Grizzlies 99, Rockets 80
Memphis, Tenn. -- Stromile Swift scored 18 points, and Jason Williams added 16 to lead the Grizzlies to their ninth win in 10 games. Pau Gasol scored 14 points and grabbed nine rebounds, and Shane Battier and James Posey each scored 10 for the Grizzlies. Tracy McGrady led Houston with 28 points on 10-of-19 shooting, while David Wesley finished with 13 points.
Jazz 102, Lakers 94
Los Angeles -- Matt Harpring scored 19 points, Raja Bell had 14 of his 16 in the fourth quarter, and Utah beat the Lakers for just their fourth win in 18 games. The Lakers missed out on another opportunity for a season-high three-game winning streak. They have won consecutive games eight times, but failed in each of those situations to win a third straight.
Harpring also had seven rebounds and six assists. Carlos Boozer added 18 points, and Gordan Giricek scored 15 for the Jazz (14-26).
Caron Butler led the Lakers (20-16) with 26 points and six rebounds.
Copyright 2018 The Associated Press. All rights reserved. This material may not be published, broadcast, rewritten or redistributed. We strive to uphold our values for every story published.