Washington — A dozen years ago Sam Brownback was orbiting Topeka as the Kansas secretary of agriculture.
These days he's showing up on political radar screens for an office at a somewhat higher altitude: the presidency.
While Kansas' senior U.S. senator is not making as big a blip as GOP heavyweights John McCain and Rudy Giuliani, he is drawing media attention and being added to lists of wanna-bes.
Yes, it's early. But presidential politics abhors a vacuum, and President Bush, though at the height of his power, already is a lame duck.
If Brownback runs, it will be on the strength of his close ties to religious conservatives, who are riding a wave of electoral success; his ability to work with Democrats; and his association with a host of global humanitarian issues.
"The only question is whether Brownback can be encouraged to give the signals and give the encouragement," said Michael Horowitz, a scholar at the conservative Hudson Institute who works with Brownback. "If he does, he will be a serious candidate on the part of many thoughtful people."
Robert Novak of the Chicago Sun-Times noted that the Kansan was "clearly interested" in running as the candidate of social conservatives.
The senator himself isn't saying anything about a White House run. In fact, few hopefuls are. So at this way-early stage of the game, observers are reading lots of tea leaves.
Confidants talk privately about his interest. One, incoming Kansas GOP Chairman Tim Shallenburger, characterized Brownback as "testing the waters. I think there's been interest with Sam Brownback for a long time that someday he would be interested in doing that."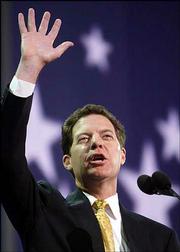 When asked about his interest in a presidential run shortly after trouncing his Democratic opponent in November, Brownback politely demurred. "I'm focused on Kansas and tonight," he said. In political speak, that hardly qualified as a denial.
Then there are those repeated trips to Iowa. That's always a clue, because that state traditionally holds the first major presidential test every four years. In addition to his quiet forays into Iowa, Brownback also has made stops in South Carolina, which holds a key early primary.
Defining his identity
Much more political chatter has centered on the theoretical primary competition: Besides McCain and Giuliani, the lineup includes Senate Majority Leader Bill Frist of Tennessee, Sen. Chuck Hagel of Nebraska, Sen. Rick Santorum of Pennsylvania, New York Gov. George Pataki and Massachusetts Gov. Mitt Romney. All are at least as well-known as Brownback; most are far better-known.
"Giuliani is mayor of the country. McCain is the straight-talking war hero," Republican pollster David Winston said. "The dynamic for all these folks looking forward to 2008 is not only name ID, but that sense that jumps out that people associate them with."
Winston said Brownback, if he decides to run, would need to define who he is for the public. "But he's got four years to develop that."
Time may be Brownback's best friend. His staff won't confirm exactly how many times he's flown into Iowa, but he likely has a lot of groundwork facing him.
Among the names being talked about, Brownback and Santorum are the favorites with religious conservatives. That gives both a leg up. It also may create a problem if both stay in the race, because the two would be forced to fight for many of the same conservative voters.
"There is a real vacuum in the Republican Party involving who will carry the mantle of the conservative base," said Gary Bauer, a leading conservative advocate and a policy aide to former President Ronald Reagan. "I think some of the issues he already has worked on -- Sudan, the marriage amendment -- will make it likely that a good number at the grass roots would be very tempted by (his) candidacy."
One opportunity to raise his profile might come as a result of Brownback's new seat on the Senate Judiciary Committee. If a Supreme Court vacancy opens, followed by committee hearings on a nominee, Brownback, an outspoken opponent of abortion, could gain some national attention.
Global experience
From his perch as a chairman of Senate foreign relations subcommittees dealing with Asia and the Middle East, Brownback has been a frequent traveler to global hotspots, often before they hit the headlines.
Long before the terrorist attacks of Sept. 11, 2001, he was involved in political developments in Afghanistan and Pakistan. He sounded the alarm about genocide in Darfur long before it became general knowledge.
His international experience, particularly his familiarity with the Muslim world, might provide a boost when the operating view of American foreign policy is the spread of democracy.
Brownback has carved out a profile in the Senate as someone who regularly works across the aisle, and whose faith imbues a broad policy portfolio: from famine in Africa to nuclear proliferation in Asia to cultural values in Hollywood.
Closer to home, Brownback has been a lightning rod in his opposition to abortion, gay marriage and cloning.
He is chairman of the Values Action Team, a coalition of conservative members of the House and Senate that meets weekly when Congress is in session to promote an agenda backed by religious-oriented, self-described "pro-family" groups.
"He just does wonders for our cause," said Amanda Izsak, a federal issues analyst for Focus on the Family, a private nonprofit ministry led by James Dobson. One of the nation's most influential evangelical leaders, Dobson was an early supporter of Brownback's political career.
Political success story
Brownback has enjoyed an unusually fast rise in politics. Following his stint as state agriculture secretary, he won a seat in the U.S. House in the GOP revolution year of 1994. In 1996, he bucked the moderate Republican political establishment and ran against Sen. Sheila Frahm, who was Gov. Bill Graves' hand-picked successor to Sen. Bob Dole. Brownback easily won the primary and defeated Democrat Jill Docking in the general election.
Since then, he has faced only token opposition in ringing up two re-election victories.
A run for the presidency is another matter. Wichita State University political scientist Mel Kahn said Brownback would be hard-pressed to top a well-known Republican, such as McCain. Perhaps Brownback has another plan in mind, he said.
"My impression," Kahn said, "is he's going to run for the presidency with the idea that he gets the vice presidency."
Copyright 2018 The Lawrence Journal-World. All rights reserved. This material may not be published, broadcast, rewritten or redistributed. We strive to uphold our values for every story published.