Washington — Retail sales, helped by sizzling activity in auto showrooms, jumped by 1.2 percent in December, providing a solid finish to a year in which sales climbed at the fastest pace since 1999.
The December increase in retail sales pushed total spending for the month to a seasonally adjusted $349.4 billion, the Commerce Department reported Thursday.
The December gain followed a much smaller 0.1 percent rise in November and reflected the fact that consumers were spending heavily on new cars in response to the return of attractive incentive programs.
Spending on car purchases shot up 4.3 percent last month after having fallen by 1 percent in November.
Excluding autos, consumer spending rose by a more moderate 0.3 percent in December, slightly lower than the 0.4 percent increase excluding autos in November.
However, analysts said that spending would have been better last month if it had not been for a big drop of 2 percent in sales at gasoline service stations, a decline that was seen as positive for the economy because it reflected lower gasoline pump prices rather than weaker demand.
For the year, retail sales climbed a solid 8 percent, the best performance since an 8.5 percent rise in 1999 and a performance that analysts hailed as showing that consumers, who have been the star performers in this recovery, are still willing to spend.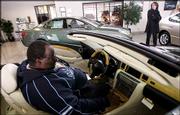 "All this worry about consumer being overwhelmed by debt and threatening to pull back is very much overblown," said Bill Cheney, chief economist at John Hancock Financial Services in Boston. "We have got job growth and people are out spending. We really do have some momentum to the economy."
Copyright 2018 The Associated Press. All rights reserved. This material may not be published, broadcast, rewritten or redistributed. We strive to uphold our values for every story published.