Minneapolis — Kobe Bryant was resting, watching his Lakers rally, when a Timberwolves fan taunted him by saying he wasn't needed.
The league's second-leading scorer simply turned around and pumped his fist in approval.
Bryant had 31 points, but Los Angeles came back without him in the fourth quarter and beat Minnesota, 105-96, on Monday night.
"It felt great to see them like that, executing, playing together like a unit," Bryant said. "Stepping up, making big shots, making great plays."
Kevin Garnett scored 23 points, grabbed 13 rebounds and dished out seven assists for the Timberwolves, who led by as many as 16 points late in the first half and by nine to start the final period. They've lost 10 of their last 14 games.
"You make your bed, and you've got to lay in it," Garnett said.
Chucky Atkins had 23 points, seven rebounds and seven assists, and Chris Mihm had 14 points to go with 17 rebounds for the Lakers. They went 16-for-35 from three-point range, one short of the franchise record for both attempts and makes, and took advantage nearly every time a Timberwolves defender was slow to rotate over on the perimeter.
"Our bench ... we're expected to produce when we come in," reserve forward Brian Cook said. "We're a tight group, and we know we have to pick it up energy-wise, defensive-wise."
A running jumper at the third-quarter buzzer by Atkins cut Minnesota's lead to 76-67, and Bryant -- who had played every minute up to that point -- began the fourth on the bench.
The Lakers went on a 24-7 run without him that included five three-pointers, two each by Cook and Jumaine Jones, and gave Los Angeles a 91-83 advantage with less than five minutes remaining.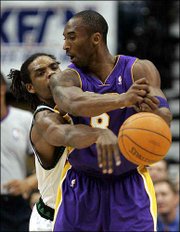 Bryant -- who scored 16 of his team's first 23 points -- then returned. With the Lakers up by five, he swished a long three-pointer from the left wing to make it 96-88 with 1:44 on the clock.
The real damage was done, obviously, in the fourth. Garnett sat for the first three-plus minutes, when Los Angeles outscored Minnesota 11-3.
Without the league's reigning MVP, Minnesota has struggled to make smart decisions on offense and play defense against the pick-and-roll. Those deficiencies showed when he was on the bench.
"We've got to find a way to finish games and play without Garnett," coach Flip Saunders said.
The Lakers, for one night at least, didn't have that problem.
"Just a great, great Laker win," coach Rudy Tomjanovich said. "We're pumped up."
Celtics 119, Magic 101
Boston -- Tony Allen led Boston's backups on a 14-point run early in the second quarter, and the Celtics rolled over Orlando after the Magic traded starting guard Cuttino Mobley.
Allen, a rookie guard, had two field goals and two steals in the surge that pushed a 32-28 lead to 46-28 with 3:14 gone in the period. The Celtics led by at least 14 points -- and as many as 27 -- the rest of the way and stopped Orlando's three-game winning streak.
The Celtics improved to 8-2 in their last 10 home games and were led by Paul Pierce with 18 points. Rookie Jameer Nelson had a career-high 19 points and Steve Francis added 18 for the Magic, who lost for the sixth straight time in Boston.
Blazers 109, 76ers 100
Philadelphia -- Nick Van Exel made a team-record eight three-pointers and scored a season-high 28 points, and Damon Stoudamire added 22 to help Portland snap a four-game losing streak with a win over the 76ers.
Zach Randolph scored 18 points, and Ruben Patterson had 13 for the Trail Blazers, who won for only the second time in their last eight games. Portland made a season-high 14 three-pointers on 26 attempts, with Stoudamire adding five. Sebastian Telfair sank the other.
Allen Iverson shook off a sprained right ankle to score 21 points with nine assists and nine rebounds for Philadelphia. Iverson crashed hard while driving to the basket early in the fourth and came up rubbing his left thigh. He left and watched the rest of the game from the bench.
Bulls 94, Warriors 85
Chicago -- Othella Harrington scored a season-high 20 points, and Kirk Hinrich had 14 points and nine assists to lead the Bulls over Golden State.
Tyson Chandler scored 13 points and had eight rebounds for the Bulls, who have won four straight. They improved to 5-1 in January and have won 10 of 13.
The Warriors have lost six straight since Jason Richardson sprained his left ankle in practice Dec. 31.
Jazz 97, Spurs 96
Salt Lake City -- Mehmet Okur's putback at the buzzer gave Utah a win over San Antonio, ending the Jazz's nine-game losing streak and nearly five years without a win against the Spurs.
Okur, who finished with 23 points and 11 rebounds, pulled down the ball after Keith McLeod missed a layup and banked it in as time expired and the home fans roared.
McLeod finished with 18 points, and Carlos Boozer and Gordan Giricek each scored 13 points in Utah's first win against San Antonio since Feb. 6, 2000 -- 93-90 in Salt Lake City. San Antonio won the next 18 against the Jazz.
Copyright 2018 The Associated Press. All rights reserved. This material may not be published, broadcast, rewritten or redistributed. We strive to uphold our values for every story published.