Green Bay, Wis. — Randy Moss stuck around for every sweet second.
Moss caught two touchdown passes, making good on his promise to atone for walking off the field last week while his teammates were trying to win their regular-season finale, and the Vikings rolled to a 31-17 victory Sunday over the stunned Packers.
The Vikings, joining St. Louis as the only 8-8 teams ever to win in the playoffs, will travel to Philadelphia after dominating the first postseason meeting with their bitter border rivals.
Green Bay had swept the season series, including a last-second win two weeks ago at the Metrodome to clinch the NFC North crown and the home field for Sunday's showdown at Lambeau Field, where the Packers have lost two playoff games in the last three years.
Daunte Culpepper threw four touchdown passes -- giving him 11 TD passes and no interceptions against Green Bay this season -- and the Vikings picked off four Brett Favre passes after managing just 11 interceptions all season.
The Vikings stumbled into the playoffs by losing seven of their last 10, the worst record over the final 10 regular-season games of any team in the 72-year history of the NFL playoffs.
"Pretty much everybody said we couldn't do it, and we just pulled together," Culpepper said. "We never bought into the negativity."
Favre said he would spend time now thinking about his future.
"It would be easy to walk off the field after that game, and say, 'I've had enough,"' Favre said. "But I'm going to try to be as fair to myself and my team as possible. I've had a lot of great games. This, obviously, was not one of them."
Minnesota scored on its first three possessions, jumping out to a 17-0 lead in avenging two 34-31 losses to the Packers, who entered the playoffs as the NFC's hottest team.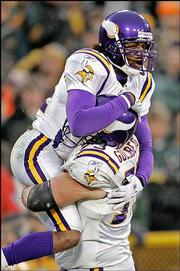 The Packers lost Pro Bowl receiver Javon Walker to a shin injury in the first half and left tackle Chad Clifton in the third quarter, but pulled to 24-17 on Najeh Davenport's 1-yard plunge with 13:37 left.
Then penalty-prone rookie cornerback Ahmad Carroll committed two costly infractions that set up Culpepper's 34-yard touchdown toss to Moss, giving the Vikings a 14-point cushion with 10:18 remaining.
Meanwhile Moss -- whose reputation still is smarting for skulking off the field with two seconds left in a loss in Washington last week -- pretended to pull down his pants and moon the crowd after scoring.
"Just having a little fun with the boys a little bit," he told FOX. "I hope I don't get in trouble by it, but if I do I'll take the heat."
The Packers were feeling good after winning nine of their last 11 and drawing the Vikings, who had lost 20 of their last 22 games outside of domes.
You never would have guessed.
Copyright 2017 The Associated Press. All rights reserved. This material may not be published, broadcast, rewritten or redistributed. We strive to uphold our values for every story published.