Amarr Garage Doors is spending $18 million to add production lines, expand warehouse space and stretch distribution lanes for its growing business.
And the company sure wouldn't mind being assured of having a steady stream of qualified maintenance people available to keep it all running.
"We need people who are skilled enough to get the job done and get it done fast," said Kirsten Krug, who manages human resources at the plant in East Hills Business Park, where openings on the 30-person maintenance crew can go unfilled for up to seven months. "If the lines aren't running, then doors aren't being made, and then everybody here is impacted. Everybody. And that's money out of everyone's pocket.
"We need more skilled people -- we all need more skilled people, no doubt. It's a never-ending process."
Krug and leaders at dozens of other employers now have a chance to have their desires heard, as a new survey is gauging just how much demand there is for technical skills, and what kind of education or training would be most useful.
In the end, a task force of business leaders, educators, administrators and elected officials plan to sift through the results with hopes of reaching an elusive goal: creating a coordinated system for satisfying the business community's needs for skilled workers.
"This is an excellent opportunity for the business community and the public schools to form a partnership," said Bruce Passman, executive director for student services at Lawrence public schools and co-chairman of the task force.
Survey under way
The survey, being conducted by Kansas University's Policy Research Institute, is targeting 400 businesses in Douglas County -- primarily those with more than five employees that are involved in manufacturing, distribution, technical service, bioscience and health service operations in the county.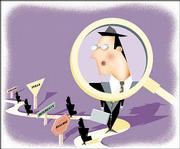 Such businesses already have indicated a need for help.
In its 2004 Business Retention Report, the Lawrence Chamber of Commerce surveyed 72 companies about their work force needs and challenges. The survey found that two of the top three "problem recruitment areas" for area employers were for maintenance and skilled-labor workers. Farther down the list, but still among recruitment challenges: electrical, engineering, manufacturing, printing and welding skills.
Also revealed in the chamber's survey: Two-thirds of responding companies reported having no training budgets.
Such training needn't be purely technical.
Of the 130 businesses already surveyed by Policy Research Institute, the common theme emerging is one of frustration with entry-level workers, said Don Haider-Markel, director of the institute's Survey Research Center.
Basic expectations
Companies complain not only that they can't always find highly skilled workers for specific jobs, but they also struggle to get workers who can handle the most basic of responsibilities.
Or understand what it means to work.
"They ... have problems in terms of people coming into jobs and not really seeing it as a career; they just see it as a temporary thing," Haider-Markel said. "They might only work for six months and leave. With their expectations about how long a work day is, or how much vacation time they should have, they get disenfranchised.
"'The kids these days, they just don't get it.' That's the language we're hearing."
Haider-Markel said that the institute's final recommendations likely would include a strong role for school districts to provide basic knowledge about what it means to become a worker: from how to interview for jobs, the importance of showing up on time and the need for smooth communication among co-workers and with supervisors.
'We all need people'
Not everyone can get out of school and expect to make "hundreds of thousands of dollars" at a first job, he said.
"The firms see that they offer all these opportunities -- good pay, stable jobs with good firms -- but their new employees are not appreciating it, and people in their potential work force aren't appreciating it," Haider-Markel said.
Krug, at Amarr, sure would appreciate some help. The company plans to add 80 employees during the next two years, bolstering a work force of 500 who run the growing plant that operates around the clock, five days a week.
The company already has agreed to pump $50,000 into the chamber's "Excellence by Design" campaign, with hopes of improving the area's work force-training efforts.
"We're not the only ones that are in need of technologically good, quality people," Krug said. "We all have the same needs. We all need people."
Copyright 2018 The Lawrence Journal-World. All rights reserved. This material may not be published, broadcast, rewritten or redistributed. We strive to uphold our values for every story published.