Beatrice Blatteis balanced on a small red ball and wiggled around to get the feel of it.
"Fun, isn't it?" asked yoga instructor Traci Sampson.
"Yeah, until the part where I fall over," Blatteis said.
But she didn't fall over, and soon her shakiness gave way to oohs and aahs.
Body rolling is a practice designed by New York yoga instructor Yamuna Zake that uses balls varying in size from 4 to 10 inches to stretch and realign the body and improve core strength.
It evolved from Yamuna Body Logic, a pain-relieving technique she developed in which practitioners use their elbows to apply pressure and loosen compression in the body.
"The Body Logic work is the hands-on work, like you would get from a Rolfer or a masseuse," said Beth Sampson, of Vancouver, British Columbia, Traci's sister, and a certified instructor in both practices.
Body rolling is based on the same principles, but you do the work yourself using the balls.
Traci Sampson has scoliosis. She says body rolling has given her strength and stability, as well as a way to relax with self-massage.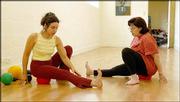 Standing on half-balls, balancing, shifting your weight and stretching across the balls can dramatically ease tension through the lower hamstrings and in the knees.
A ball rolling up the spine can loosen the muscles in the chest and down through the arms.
"When one muscle ends, another begins," Beth Sampson said. "If you open something in your hip, you're going to feel it in your shoulder, because everything is connected."
There are routines that focus on all parts of the body -- the abdomen, spine, calves, upper chest and quads. Different size balls are used on different parts of the body and vary according to fitness.
The ability to focus on precise areas of the body is one way the balls differ from the large balls commonly seen in gyms and fitness stores.
"Those balls are really meant for doing exercises to develop core strength," Beth Sampson said. "The body rolling balls can deal with specific muscles, bone and joints that the big balls can't reach."
Copyright 2018 The Lawrence Journal-World. All rights reserved. This material may not be published, broadcast, rewritten or redistributed. We strive to uphold our values for every story published.