Buenos Aires, Argentina — It's tough looking at Mondongo's art on an empty stomach.
The group of three young artists uses cold cuts, cookies and other unusual items to create literal feasts for the eyes. Wall-sized meatscapes are formed with a palette of cheeses and smoked ham, deer, salmon and other edibles, each chosen for their specific shade.
Indeed, when it comes to their lifelike portraits and other images, Mondongo seems to have an appetite for almost any material -- except paint.
"We've used 60 different materials in our art, depending on what best reinforces the concept of the work," says Manuel Mendanha, 28. "It's always a process of experimentation until we finish it."
A recent exhibition of Mondongo's latest work, "What a Big Mouth," drew thousands of visitors to a Buenos Aires gallery to admire such creations as a giant lotus flower made with 300,000 hand-painted Chinese sticks and a picture of childbirth formed with 64,000 small glass squares. The display also includes the story of Little Red Riding Hood depicted in a dozen pictures made of countless small pieces of plasticine.
But above all, Mondongo has a taste for food. The group's name refers to a traditional Argentine meat stew.
"We have an infinite spectrum available to us to create our works," says 27-year-old Agustina Picasso (no relation to Pablo). "There are no limits on what we do."
Collectors bite
The food is freeze-dried and vaccum-sealed in layers of resin, letting the artists create a sense of depth in their work by including food on varying levels within the artwork.
Despite their unorthodox components, Mondongo's images are stunningly precise. A giant picture of the White House's south portico is faithful down to the building's steps and railings. From a short distance, the artists' self-portraits even resemble "ham-tinted" photographs.
Some of Mondongo's images are for decidedly mature tastes. The "Black Series" is a collection of 18 pornographic images modeled after explicit photos the group downloaded from the Internet. Oreos form dark backgrounds and shadows, while fragments of tan-colored cookies and crackers create the rest.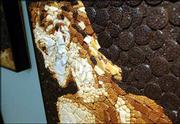 So far, art collectors are biting.
"Sales have reached the summit of any exhibition's expectations," said Cecilia Caballero, co-director of Daniel Maman Fine Arts, the Buenos Aires gallery where Mondongo's art was shown. "Some people talk about 'Mondongo mania."'
Since the exhibit opened this fall, Mondongo has sold more than 40 of the 47 works on display for prices up to $35,000, Caballero said. A third have gone to art collectors outside of Argentina, including board members of the Tate Gallery in London and the Museum of Modern Art in New York.
"People have been surprised by the quality and sophistication of the exposition, even though Mondongo (members) are just 27 to 30 years old," gallery director Daniel Maman said.
"Their work is much more mature than their age" would suggest, he said.

Spain's royal family count themselves among the group's admirers. An aide to Spain's former prime minister was impressed by Mondongo during a visit to Buenos Aires, and he encouraged the three to render the royal family in their unique style.
Mondongo's portraits -- each made with thousands of small glass squares -- charmed the king and queen during a trip to Buenos Aires, and the pictures of King Juan Carlos, Queen Sofia and Prince Felipe now hang in Madrid's royal palace.
The Daniel Maman show was the fourth exhibition for Mondongo, which got its start in 1999 when the artists met while studying painting in Buenos Aires. Mendanha, Picasso and third member Juliana Laffitte, 30, all knew they wanted to create unconventional art, Picasso said.
"It was very natural for us to come together," she says. "Working in solidarity is much more fruitful than working on our own."
Mondongo discourages attempts to hunt for a hidden deeper meaning in its choice of materials and the artists remain tightlipped about the details of how they make their novel art, although they acknowledge their works are based on enlarged photographs of their subjects.
As serious a challenge as creating the art itself is figuring out how to manipulate and preserve their wide range of materials, according to Picasso.
"Every new material we use is a new experience and a new experiment," she says. "We start from scratch every time."
Mondongo's works will be on view at Track 16 gallery in Santa Monica, Calif., through Feb. 5. The show, titled "From B.A. to L.A.," features Mondongo and four other Argentine artists. A larger display of Mondongo's art will tour the United States at the end of 2006.
Copyright 2018 The Associated Press. All rights reserved. This material may not be published, broadcast, rewritten or redistributed. We strive to uphold our values for every story published.