Topeka — It can't bode well for the 2005 legislative session when opposing camps are arguing before it even starts about the timing of release of the state's budget proposal.
Throw in the facts that the system of financing schools, which is half of state spending, has been declared unconstitutional, the death penalty has been overturned and Kansas is still climbing out of a budget hole.
"This session is going to be challenging," said House Speaker Doug Mays, R-Topeka.
Breaking tradition
Legislators will convene at 2 p.m. Monday, take their oaths of office in groups of 10 and then hang around until 7 p.m. when Gov. Kathleen Sebelius delivers the State of the State address to a joint session of the Legislature and a statewide television audience.
Sebelius, a Democrat, plans to break with decades of tradition and release her proposed state budget Tuesday instead of the session's first day, a move that has produced heartburn among Republicans.
Her spokeswoman, Nicole Corcoran, said Sebelius wanted to focus on broad proposals in Monday's address before giving lawmakers her budget request.
Republicans sense a move by Sebelius to try to dominate the session's opening day, which is the one most heavily covered by television.
"It certainly doesn't set a very good tone," Mays said. "I don't seen any real justification" for waiting to release the budget.
Monday¢ 1:30 p.m.: Supporters and opponents of a proposed constitutional amendment banning same-sex marriage will have rallies outside the Capitol.¢ 2 p.m.: House and Senate convene.¢ 7 p.m.: Gov. Kathleen Sebelius delivers the State of the State address, entitled "A Vision for a Healthy Kansas," in the House chamber.The address will be broadcast live on all three Kansas-based public television stations across the state, including Sunflower Broadband channels 7 and 11. Kansans also can listen live on Kansas Public Radio, KANU 91.5 FM in Lawrence, or online at www.accesskansas.org or www.ksgovernor.org. State Sen. Steve Morris, R-Hugoton, will give the Republican message after the governor's speech.Tuesday's highlights¢ 10:30 a.m.: Budget director Duane Goossen unveils Sebelius' budget proposal¢ 10:30 a.m.: Senate Federal and State Affairs Committee discusses liquor control issues, such as Sunday sales.¢ 4 p.m.: 2005 Kansas Legislative Service at First Presbyterian Church, 812 S.W. Topeka Blvd., Topeka.
Some Republicans talked privately about passing a resolution Monday that would require Sebelius to wait until Tuesday to deliver the State of the State address.
Sebelius pulled a similar nontraditional move last year, waiting until after her televised address to announce, through a news release, that she wanted to raise taxes by $300 million for public schools.
Meaty issues
Aside from the session's backstage theatrics, the weighty topics are school finance, health care, same-sex marriage, death penalty and the budget.
The Kansas Supreme Court figures prominently in several of those issues.
Last week, the seven-member court in a unanimous opinion found the Legislature had failed the Kansas Constitution's requirement to "make suitable provision" for funding public schools.
The court gave lawmakers until April 12 to increase funding, and distribute those funds more equitably. The lawsuit challenging the school finance system said it shortchanged districts with high numbers of low-income and minority students and students with disabilities.
The Supreme Court also declared unconstitutional the Kansas death penalty law, saying it unfairly tilted juries toward assessing the death penalty when weighing evidence.
An attempt to fix the law could reopen the debate on whether to keep the death penalty in Kansas. Since it was reinstated in 1994, seven men have been condemned to die, but none has been executed as their appeals continue.
On health care, Sebelius has proposed a 50 cent-per-pack tax increase on cigarettes to expand health insurance to thousands of uninsured Kansans.
Legislative leaders have said the proposed tax increase might be dead on arrival, but they want to see more details of the plan.
The Legislature again will take up whether to put before voters a constitutional amendment that would prohibit same-sex marriages. The ban already exists in state law, but a group of ministers said a constitutional amendment was needed to give marriage further protection.
The proposal would need two-thirds majorities in the House and Senate and then a majority of votes in a statewide election. The issue failed to get the necessary two-thirds votes last year.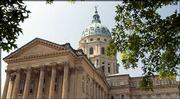 On the budget, the state has slowly climbed out of shocks of drought, recession and the effect of 9-11 on the Kansas aircraft industry.
Tax receipts for fiscal year 2004, which started July 1, 2004, are up $77.2 million from the previous fiscal year, an increase of 3.6 percent.
In addition, legislators are likely to face other major issues, such as whether to expand gambling and to allow changes in the state's liquor laws.
Heavy hitters and politics
The main players who will be wrestling with these issues are Mays, Sebelius and Senate President-elect Steve Morris, a Republican from Hugoton, who replaces Dave Kerr to lead the Senate. Kerr, a Republican from Hutchinson, did not seek re-election to the Senate.
Sebelius, Mays and Morris are political veterans with decades of legislative experience. As a Democrat, Sebelius faces one of the most Republican legislatures in the country. Republicans hold a 30-10 advantage in the Senate and an 82-43 margin in the House.
Still, the Republicans are deeply divided between so-called conservatives and moderates.
Mays is considered a conservative and Morris a moderate.
Morris was recently elected to the Senate's top post by a 17-13 vote among Republican colleagues. Despite the division, Morris said he thought the GOP caucus would get along, and that he looked forward to the session.
In addition to the lawmakers, there will be an army of lobbyists trying to persuade the Legislature to act on a range of special-interest issues.
Kathleen SebeliusGovernor, Democrat,third year of first termSebelius faces one of the most Republican legislatures in the country. She has received good grades for helping the state through a budget crisis her first year, but her attempts to increase taxes for education were rejected last year. This year, she will be a major player in any school finance debate.Steve MorrisSenate President-elect,R-HugotonMorris is a western Kansas farmer who has been chairman of the Senate budget-writing committee for the past four years. He was elected president 17-13 in a race that showed the split between so-called moderates and conservatives. Cast as a moderate, he is seen as a consensus builder.Derek SchmidtSenate Majority Leader-elect,R-IndependenceSchmidt has climbed quickly to a leadership post. He appears to be point man to provide the Republican message in contrast to Sebelius.Anthony HensleySenate Minority Leader-elect,D-TopekaHensley has 28 years in the House and Senate. With Democrats outnumbered 30-10 in the Senate, he and his party face tough odds, but he is a master at using parliamentary rules and is a plain-spoken debater.Doug MaysHouse Speaker,R-TopekaWith 12 years in the Legislature, Mays is seen as a conservative Republican and a possible candidate for governor in 2006.Dennis McKinneyHouse Minority Leader,D-GreensburgA farmer and stockman, McKinney dresses like a cowboy but talks like an economist. Outnumbered 82-43 in the House, he oversees a caucus with a range of opinions and experiences.
Copyright 2018 The Lawrence Journal-World. All rights reserved. This material may not be published, broadcast, rewritten or redistributed. We strive to uphold our values for every story published.