Photographer: Scott McClurg
Camera: Nikon D1H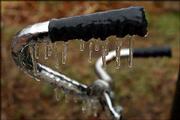 Lens: 17-35mm zoom at 35mm
ISO: 800
Aperture: f4
Shutter speed: 1/80
I shot this picture during Tuesday's ice storm in Lawrence. Once the rain started to ice, I began searching for interesting items that would be covered with ice. The clock was ticking both for deadlines and available light.
I was on campus shooting a chain-link fence covered in ice before I found an old-style cruiser bicycle. There were also a bunch of maple leaves covering the ground, which created a more colorful background. Using a shallow depth of field also cleaned up the background, allowing the ice to really pop.
The only problem with shooting ice or snow is the sometimes-tricky exposures. When shooting ice, you want to make it look wet and glossy. For snow, you want to give it some definition rather than just blow it out to bright white.
Time of day and cloud cover can help or hinder. It's nearly impossible to shoot good snow pictures at high noon on a clear day, so get out early or stay late, just before sunset. If it is really overcast, you can sometimes shoot all day.
A good trick to use is to "bracket" your exposures. This means simply shooting the same picture three or four different times using different exposures. Changing the shutter speed to let in more or less light will ensure you get the right exposure. This type of shotgun approach is useful in tricky lighting situations like snowy and icy conditions. Some cameras even have this feature as an advanced setting.
Using digital cameras also helps a lot, as you can immediately see what settings are working and which aren't. I usually shoot in manual modes because the camera doesn't really know what I am looking for in an exposure.
Copyright 2018 The Lawrence Journal-World. All rights reserved. This material may not be published, broadcast, rewritten or redistributed. We strive to uphold our values for every story published.