Wichita — After three days without power, Ielonimo Timoteo took his 2-year-old daughter, Megan, to a shelter Friday seeking a warm place to stay.
Since losing power Tuesday, the unemployed mechanic and single father has struggled to keep the family's mobile home warm by keeping the gas burners on the stove going. He stayed up to watch them through the night while his daughter and 74-year-old mother tried to slept under flimsy blankets.
Even opening the canned goods they had to eat was a struggle because the only can opener they had was electric. He used a knife to pry open cans of food.
But it started getting colder inside the trailer after one of the stove's burners failed. Then Timoteo found out it would be an additional four or five days before power was restored to the mobile home park where he lived.
"My daughter, she was getting scared of the dark. It was getting too cold," he said. "The blankets we had were not adequate."
Unable to persuade his elderly mother to leave, Timoteo took his young daughter to Wichita's Reformation Lutheran Church, where Red Cross officials had set up a shelter. Volunteers made sure the two immediately received a hot meal of ground burger and macaroni.
"I'm just enjoying the warmth," he said as he settled down to eat.
Across the room, Becky Brown and Meryl Raybourn were passing the time playing rummy. They had been playing card games for the past two days.
Brown has been in the shelter since Wednesday night, and was disappointed to learn Friday that it would be four more days before her power was restored. Raybourn, who has been at the shelter since Tuesday night, checks to see if his power is on by calling his house to see if his answering machine picks up.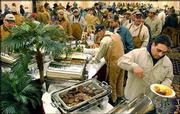 "It's kind of boring," said Raybourn, who was losing the game.
A massive stretch of Kansas and Missouri was hit beginning Tuesday by a storm that dropped freezing rain, sleet and snow, glazing nearly everything with ice.
By Friday, most had regained electricity, but many more were bracing for days of outages.
Kansas' largest electric utility, Westar Energy Inc., said Friday afternoon that 51,000 customers across the state were without power and that some likely would have to wait until Wednesday or Thursday for service to resume.
Other companies reported far fewer customers still without power. Kansas City Power & Light said 200 customers were without power Friday afternoon; Aquila Inc. said it had only scattered outages in western Missouri and 365 customers without power in Kansas.
Authorities say one woman who turned to a portable generator to power her blacked-out home died of carbon monoxide poisoning, apparently because she didn't have proper ventilation. Some people went to shelters; nearly all the Wichita area's 7,600 hotel rooms were occupied, too.
Mike Unsain passed the time by helping volunteers at the shelter. On Friday, he was busy taking down lights and ornaments on the church's Christmas tree.
When power went out at his house Tuesday, he initially kept warm with a butane heater. But he was so afraid the carbon monoxide fumes might kill him that he didn't sleep all night.
He had a taxi cab bring him to the shelter the next day.
"They are so generous; all of them are volunteers," he said. "In addition to that, they make me feel so comfortable."
Copyright 2018 The Associated Press. All rights reserved. This material may not be published, broadcast, rewritten or redistributed. We strive to uphold our values for every story published.