Boston — Richard Hamilton made his first shot to end a record-setting run of futility. And he made his last shot to end the Boston Celtics' chances of a comeback.
One game after going 0-for-10 from the floor, Hamilton scored 25 points and made two baskets down the stretch Friday night to help the Detroit Pistons beat the Boston Celtics, 110-104.
Chauncey Billups scored 22 for the defending NBA champions, who lost to Memphis, 101-79, on Thursday. Hamilton missed all 10 of his field-goal attempts and went 14-for-14 from the free-throw line in that game to become the first player in NBA history to lead his team in scoring without making a single field goal.
"Last night, I didn't get a whole lot of easy looks," Hamilton said. "We had more of a rhythm tonight. We shared the ball and got easy baskets."
Hamilton wasn't the only Piston who struggled Thursday night. Detroit shot 31 percent from the floor while the Grizzlies forced 23 turnovers and blocked 15 shots.
"We didn't really do anything well last night," Pistons center Ben Wallace said.
But the problems didn't linger against the Celtics. Hamilton made his first two shots Friday -- and missed his first free throw.
But what he did at the end of the game was more important.
Boston trailed just 101-98 when Ricky Davis made a layup with 1:59 to play. But Hamilton set up on the left side for a three-pointer and swished it with 1:38 left. After Paul Pierce lost the ball at the other end, Hamilton sank an 11-footer to give Detroit a 106-98 lead with 68 seconds to play.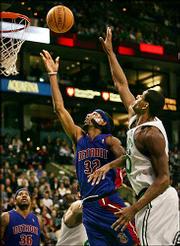 "We shot about 50 percent. That's like 90 percent for us, the way we've been shooting lately," Pistons coach Larry Brown said. "We got to the free-throw line. We got to the boards. We took a lot more shots than they did."
Pierce scored 22, and Davis added 19 for the Celtics, who shot 59 percent from the floor compared to Detroit's 49 percent. Boston had won five consecutive home games.
"I know they're the world champs, so I'm not getting crazy here," Boston coach Doc Rivers said. "But all my life I think when you play at home, you should win. I don't care who the team is."
Rivers bemoaned the fact the Celtics were able to stop Detroit on the first attempts, but the Pistons kept grabbing offensive rebounds and scoring on their second chances. The Pistons outrebounded Boston 40-29; in the second half the edge was 24-15, and 10-0 on the offensive boards.
"It's a killer when you play defense for 24 seconds and then give them the ball back and then give them a shot. It's a killer," Rivers said. "I thought, 'That has to kill your spirit at some point.' And I think it did tonight."
Kings 100, Hawks 97
Atlanta -- Mike Bibby scored 31 points, including a clinching jumper with 11.7 seconds remaining, and Sacramento handed Atlanta its sixth straight loss. The Hawks (5-26) have lost 11 of 12. Only New Orleans has a worse record. Chris Webber bounced back from a 6-of-21 shooting performance in a loss to Toronto. He made his first six shots and finished 13-of-22 from the field for 28 points.
Al Harrington led the Hawks with 22 points. Walker added 21, but he had another dismal night at the foul line, missing all five of his attempts to drop his season percentage below 52 percent. Josh Smith scored 16 points for Atlanta -- 12 of them coming on six dunks that kept bringing the fans to their feet.
Nets 82, Warriors 72
East Rutherford, N.J. -- Vince Carter scored 22 points, Richard Jefferson added 20, and New Jersey bounced back from two bad road losses to beat Golden State. Jason Kidd added 13 points, 13 rebounds and nine assists as the Nets sent the Warriors to their fourth straight loss.
Mike Dunleavy, Calbert Cheaney and Mickael Pietrus scored 12 points apiece for the Warriors, who played their fourth straight game without starting shooting guard Jason Richardson (sprained left ankle). Cliff Robinson added 11 points, five rebounds and three blocks.
Magic 111, Bobcats 91
Orlando, Fla. -- Hedo Turkoglu scored 22 points, and fellow reserve Pat Garrity added 16 for Orlando. Grant Hill scored 16 points, and Tony Battie added 13 on 6-for-6 shooting for the Magic, who on Nov. 6 became the first team to lose to the Bobcats. Steve Francis had 10 points and tied his season high with 13 assists.
In a matchup of the top two picks in last year's draft, Charlotte's Emeka Okafor had 15 points and six rebounds, and Orlando's Dwight Howard 10 and 12.
Bucks 107, Raptors 105, OT
Toronto -- Desmond Mason had 23 points, and Michael Redd scored 10 of his 15 points in the fourth quarter as Milwaukee beat Toronto in overtime. Jalen Rose sent the game overtime with a driving layup at the buzzer, but Mason had five points in the extra period, and Toronto's Morris Peterson missed a potential tying jumper with one second left.
Maurice Williams added 22 points for the Bucks, who have won just three of their 15 road games. Rose and Eric Williams each had 21 points for the Raptors.
Timberwolves 89, 76ers 84
Minneapolis -- Sam Cassell scored Minnesota's first 14 points in the fourth quarter and finished with 26 as the Timberwolves ended a four-game losing streak with a victory over Philadelphia, which played without guard Allen Iverson. Iverson, the NBA's leading scorer, sat out the game because of a sprained right ankle sustained Wednesday at Utah. He also was bothered by the flu and a bruised left shoulder, but Sixers coach Jim O'Brien said it was the swollen ankle that kept Iverson out.
Grizzlies 84, Hornets 76
Memphis, Tenn. -- Pau Gasol scored 20 points, and Shane Battier added 19 to help Memphis extend its winning streak to six games. Memphis outscored New Orleans 8-1 in the final 2:23 to improve to 18-17, the first time the Grizzlies have been above .500 this season. Baron Davis led the Hornets, an NBA-worst 2-29 after their 10th straight loss, with 19 points and eight assists.
Bulls 84, Jazz 78
Chicago -- Rookie Luol Deng had 22 points and seven rebounds, and Eddy Curry added 21 points as the Bulls handed Utah its eighth consecutive loss. Matt Harpring and Gordan Giricek each had 13 points for Utah, which hasn't won since beating the Philadelphia 76ers, 103-101, Dec. 20.
Kirk Hinrich scored 12 points, and Ben Gordon and Andres Nocioni each had 11 for Chicago, which has won eight of its last 11 games.
Heat 103, Trail Blazers 92
Portland, Ore. -- Miami began its longest road trip of the season by getting double-doubles from Shaquille O'Neal and Dwyane Wade to defeat injury-depleted Portland.
O'Neal had 28 points and 10 rebounds, and Wade had 25 points and 12 assists for the Heat, who led by as many as 22 in winning for the 16th time in 17 games. Their only loss came Monday against the SuperSonics, and they can avenge it Sunday night at Seattle on the second stop of a five-game trip.
Miami has won eight straight road games.
Lakers 111, Rockets 104
Los Angeles -- Kobe Bryant had 27 points and 10 assists, and the Lakers defeated Houston to snap a two-game losing skid. Four other Lakers scored in double figures, including Lamar Odom with 20 points and 12 rebounds and Caron Butler with 21 points.
Tracy McGrady led the Rockets with 26 points. Yao Ming scored 25 points before fouling out with 2:18 remaining.
Along with Bryant, McGrady and teammate Bobby Sura donated $1,000 per point to UNICEF to benefit children who survived the tsunamis in Southeast Asia. Sura added 20 points. The three players contributed $73,000.
Copyright 2018 The Associated Press. All rights reserved. This material may not be published, broadcast, rewritten or redistributed. We strive to uphold our values for every story published.