Friday was a day of farewells at the Judicial & Law Enforcement Center.
More than 70 people gathered in a conference room to say goodbye to outgoing Sheriff Rick Trapp, who decided not to seek a second four-year term and stepped down Friday. Staffers also said farewell to outgoing Dist. Atty. Christine Kenney, who lost a bid for a third term in November.
The two Republicans -- who worked together as assistant Douglas County prosecutors in the late 1980s and early 1990s -- shared a hug after Trapp gave a farewell speech at his reception.
"Our relationship has definitely extended beyond professional," Kenney said. "He was a great mentor. ... His extensive years in law enforcement were very helpful to me."
Trapp began his career in public service by working for the county's ambulance service in the late 1960s. One day at the hospital's snack bar, then-Sheriff Rex Johnson pulled him aside and asked him to come to work for him.
"I knew if I got local kids, they would stay with me," Johnson said.
Within days, Trapp was a sheriff's dispatcher.
"Extensive background check," Trapp joked.
Trapp later became a deputy, spent a year with the Lawrence Police Department, earned a law degree in 1975 and worked as an FBI agent for 10 years. In 1985, he began working for the Douglas County District Attorney's Office, which Kenney joined in 1989.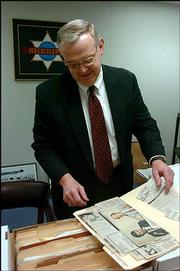 When Trapp first worked with the sheriff's office, it employed eight people. Today, it employs 126. Back then, the jail housed eight to 12 people at a time; today it houses up to 150.
Trapp won recognition during his term as sheriff for improving services for mentally ill jail inmates. Police Chief Ron Olin credits him with making "a progression toward a more professional organization."
Kenney's defeat in November marked the end of a 20-year era of Republican control of the office, an era that began when Jim Flory was elected in 1984.
"I would like to think that what we have done in the last 20 years is solidify a countywide approach to solutions to crime in our community," Kenney said Friday as she sat in her mostly cleared-out office.
She said she was proud of the good working relationship her office kept with law enforcement.
"I love working with those men and women," she said. "They are good people who are trying to do a good job under the worst circumstances."
Kenney said she considered the case of double-murderer Damien Lewis to be the most significant one she'd handled in her years in office. Some family members of victims Pete Wallace and Wyona Chandlee -- whom Lewis shot execution-style in 2002 after they found him burglarizing their home on Learnard Avenue -- voiced their objection to a plea that allowed Lewis to avoid the death penalty.
"That was probably one of the most difficult decisions I ever made: whether or not to pursue the death penalty for those crimes," Kenney said.
Kenney has accepted a job in the U.S. Attorney's Office, where Flory is now first assistant prosecutor. Trapp hasn't decided what he'll do next.
Copyright 2018 The Lawrence Journal-World. All rights reserved. This material may not be published, broadcast, rewritten or redistributed. We strive to uphold our values for every story published.