As he stood near a Buddhist temple in Kao Lak, Thailand, Mike Doveton struggled to remember that he had gone to the Asian island for a vacation.
It was just days before the new year. While some people were inventing resolutions or spending time with friends and family during the winter holidays, Doveton, who grew up in Lawrence, was wearing a makeshift biohazard suit and helping a team of Dutch forensic scientists by putting dead tsunami victims into bags.
A 1996 Lawrence Alternative High School and 2002 Kansas University graduate, Doveton said the smell was overwhelming. But that wasn't the worst.
"I was just trying not to think about how their families felt," he said. "I just knew that some of their families probably were looking for them and posting their pictures on bulletin boards. I think that was the worst part of the job."
Doveton and his girlfriend, Philadelphia native Andrea Pfeiffer, had traveled to Thailand for a vacation. For the past four months, Doveton has been teaching English in South Korea. The two planned to relax, swim in the ocean and take in the beauty of their surroundings. But their vacation quickly ended when a tsunami ravaged the country and other parts of the region.
It wasn't until a day after it hit that Doveton realized the enormity of the devastation wrought by a massive earthquake and resulting tsunamis. Thailand wasn't hit as hard as Sri Lanka and India, but that knowledge didn't help Doveton and Pfeiffer.
"I was completely astounded," Doveton said.
Stuck in water
Doveton and Pfeiffer arrived on Christmas Eve at Ko Lanta, an island in southern Thailand.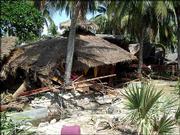 The day the tsunami hit, Doveton and Pfeiffer went with a group of about 10 other people on a tour that included snorkeling.
After arriving at their first stop, Doveton and Pfeiffer put on their gear and jumped in the water.
Doveton noticed that he and his girlfriend had traveled quite far from the boat. He started swimming back, but the current was so strong that Doveton couldn't move.
"I didn't want to yell for help because of pride," he said. "I just kept trying harder and harder and I was not getting anywhere."
He said it felt like 10 minutes had gone by while he remained stuck in the water.
Eventually, the guide moved the boat toward Doveton and Pfeiffer and the two were pulled in with the help of a rope. Doveton didn't think the incident was unusual.
It wasn't until later when they were taken to a beach area that they noticed there was a problem.
"We got there and this whole town was awash," Doveton said. "There were a lot of buildings down. I thought maybe it was a localized event. The type of devastation that actually happened -- that thought never entered my mind at that point."
Doveton said he heard another large wave was going to hit Ko Lanta at 3 p.m. It was 1 p.m. Doveton and Pfeiffer quickly headed back to their resort, which also had been struck. Doveton said he and Pfeiffer managed to find important documents and information in their bungalow, loaded them into a backpack and headed for higher ground.
They slept on the floor that night in an unfinished resort. The second wave never hit.
Massive reality
The next morning, they went to another nearby resort where they were able to e-mail their families. It was there they saw news reports about the massive natural disaster.
"That's when we realized the magnitude of what had happened," Doveton said. "So many snorkelers and divers from Thailand were missing. It just suddenly became a lot more real."
The two secured transportation back to the mainland, but they would have to wait a day. In the meantime, they went back to the resort they had been staying at and helped with cleanup efforts.
On Dec. 28, they headed back to Phuket, Thailand, and were to go to Bangkok where they would catch a flight to South Korea.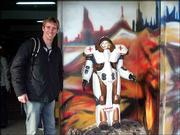 "But when we got there, we realized we needed to stay and help," Doveton said.
They went to the City Hall to see what they could do. While waiting, they saw large bulletin boards covered with posters of pictures of missing people and pleading messages. Pictures of unidentified dead were posted on another bulletin board.
"It was all we could do not to just break down and start crying," Doveton said. "It was just awful. Most people around City Hall had lost loved ones and were still looking for them."
The two were put up in a university classroom, which had been turned into a makeshift dorm room.
"The Thai people were really great and helpful," he said.
Working in Kao Lak
The two were assigned to a Dutch forensics team heading to Kao Lak, one of the hardest-hit places in Thailand.
"It was completely annihilated," Doveton said. "They had been stacking the bodies they found in Buddhist temples and they were pulling up hundreds of bodies from the beach."
It was there that Doveton and Pfeiffer put on the biohazard gear and began putting bodies into bags after members of the forensics team tried to identify the victims.
Doveton and Pfeiffer worked two days in Kao Lak. On New Year's Eve, however, the two couldn't handle another day and took an assignment helping at the local hospital.
"We basically just talked to people and tried to make them feel comfortable," Doveton said.
The two left Thailand on Jan. 2.
"It was strange because there was all this devastation and that was mixed with the beauty of the place," Doveton said. "But you just feel terrible for these people looking for missing family members."
Copyright 2018 The Lawrence Journal-World. All rights reserved. This material may not be published, broadcast, rewritten or redistributed. We strive to uphold our values for every story published.