Rodrick Stewart has met all the academic requirements to complete his transfer from Southern California to Kansas University.
"I was kind of holding my breath for a couple of days, but I knew I was going to be OK academically," the 6-foot-4 point guard/shooting guard said Friday from his hometown of Seattle after learning he had been accepted to KU. "I'm just ready to come to Kansas on Monday."
Stewart -- he has been working out with a personal trainer and KU signee Micah Downs, also of suburban Seattle, since he announced the day before Thanksgiving he would attend KU -- said he was coming Monday to Lawrence.
He can begin practicing immediately, but he can't play in games until December -- the conclusion of the first semester of the 2005-06 season.
"It won't be that hard because I can get used to going to school, plus you can learn a lot just watching," said Stewart, who averaged 4.4 points and 2.7 rebounds while starting 17 of 27 games his freshman year at USC.
He was academically ineligible during his first semester at USC where his twin brother, Lodrick, is a Trojan starter.
"It's just a basketball school," Rodrick Stewart said, asked why he chose KU over Oklahoma State and Gonzaga. "Not taking anything away from SC, but it's a football school. I wanted to go play where there's a great atmosphere and the arena is full every game. It's going to be great."
Stewart, a teammate of KU freshman C.J. Giles at Seattle's Rainier Beach High, has known KU assistant coach Kurtis Townsend since Stewart was in seventh grade. Townsend, a former Michigan assistant, recruited former Rainier Beach standout Jamal Crawford to Michigan.
"I've known Kurtis all my high school career," Stewart said. "I was like C.J.'s mentor. I sort of carried him on my back, trying to help him out. He's going to be a real good player. It will help having them there a lot (along with Downs). Being from the same town, we'll not get homesick."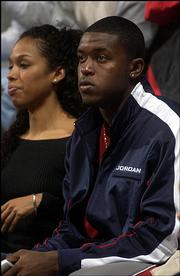 Giles said Stewart has meant a lot to his career.
"He was one of the inspirations getting me to play," Giles said. "He and Nate Robinson (University of Washington). They were the guys always on me. He's athletic, can jump out of the gym and shoot the ball."
Stewart, who hit just three of 30 three-pointers and 34.4 percent of his shots his freshman year at USC, was a top 30 player coming out of high school.
"He's athletic, borderline a freak," KU senior Aaron Miles gushed. "At Nike camp, when I was counselor, he was going to be a senior. I don't know if it was him or his brother (Lodrick), but he was in the layup line. I said, 'Show me something.' He tried to go off two feet between the legs and had it. He threw it down too hard off the back of the rim. It's obvious he can do it."
Indeed, Stewart is known as extremely athletic and a high flier who has potential to be a stopper on defense.
"I'll play whatever position the coach wants to put me into," said Stewart, who said he will stay at KU this summer to go to school and "work on my game."
Stewart's dad is thrilled his son landed at KU.
"It's great news. If you want to be an actor you go to Hollywood. If you want to play basketball you go to Kansas," Bull Stewart said. "I'm the happiest dad in the world. It's a different feel at Kansas. Everybody is united. It's a family, a connected group. He's the happiest he's been in a long time."
KU, which has signed high school players Downs, Julian Wright and Mario Chalmers, currently is out of scholarships. Another would become available if J.R. Giddens turns pro and/or if KU loses anybody to transfer. Stewart must pay his own way to KU this semester.
Copyright 2018 The Lawrence Journal-World. All rights reserved. This material may not be published, broadcast, rewritten or redistributed. We strive to uphold our values for every story published.