AUBURN HILLS, MICH. — The Detroit Pistons were so inept that their leading scorer didn't even make a field goal -- a first in NBA history. Bonzi Wells scored 23 points to help the Memphis Grizzlies beat Detroit, 101-79, Thursday night, extending their season-high winning streak to five games.
The Pistons shot just 31 percent and were paced by Richard Hamilton's 14 points -- even though he finished 0-for-10 from the floor. It was the first time in NBA history that a team's leading scorer did not connect from the field, according to the Elias Sports Bureau.
"It was just one of those nights," said Hamilton, who hit all 14 of his free throws.
The defending NBA champion Pistons, who had won five of six, were handed their most lopsided loss since a 108-76 defeat at San Antonio on Jan. 25, 2003.
"They've got a championship, so I guess they can take a night off," Wells said. "We don't have a championship, so we're hungry. We were just more aggressive."
The Grizzlies (17-17) reached .500 for the first time this season. They were 5-11 when they hired Mike Fratello on Dec. 2 to replace the retired Hubie Brown.
"Coach had us shooting for .500 since he was hired because we had to get here before we could get where we want to go this season," said Wells, who shot 9-of-15 off the bench.
Detroit fell behind in the first quarter and trailed by nine at halftime before the Grizzlies led by as many as 22 in the third and coasted in the fourth.
The Pistons won the NBA title last season with hustle, tough defense, unselfish play and balanced scoring. Memphis used that formula to rout them.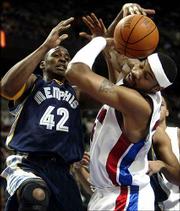 The Grizzlies appeared to be much more motivated to play hard from the start while Detroit was sluggish, as it often has been early in games this season.
"I never thought I would have to coach effort," Pistons coach Larry Brown said. "I've never had to do that in my entire life, and this is the last group that I expected to have to do it with.
"Maybe a game like this will make us recognize how bad it is."
Ben Wallace hopes so.
"This game proves what happens when you don't come out ready to play," he said.
The Pistons (17-14) were 18-13 at the same point last season.
Memphis held Detroit to 31.3 percent shooting, forced 23 turnovers and blocked 15 shots.
"We got a lot of easy baskets off our defense," Shane Battier said. "When we get easy baskets, our confidence soars."
The Grizzlies had 32 assists, many thanks to fantastic ball movement, and seven players scored at least eight points.
Pau Gasol had just 12 points after averaging 24 in the previous four games, but his teammates picked up the slack. Mike Miller scored 17, Battier had 12, reserve Stromile Swift scored 11 and Lorenzen Wright added 10.
Wizards 107, Sonics 96
Washington -- The Washington Wizards made the most of their first national TV appearance in 20 months, building a quick lead with balanced scoring in a victory over Seattle.
Gilbert Arenas scored 27 points and Larry Hughes had 21 to lead six players in double figures as the Wizards improved to .500 (5-5) against teams from the Western Conference, the latest notable milestone in what has so far been Washington's most promising season in nearly two decades.
Nick Collison started his second straight game for Seattle.
Spurs 111, Pacers 98
San Antonio -- Tim Duncan scored 27 points and Tony Parker had 26, leading San Antonio over Indiana. Manu Ginobili added 18 points and Duncan grabbed 12 rebounds for San Antonio, which improved to 8-0 at home against Eastern Conference teams and 16-1 overall at the SBC Center. The Spurs earned their seventh double-digit victory in eight games, but it didn't come easy.
Jermaine O'Neal had 32 points and nine rebounds for Indiana, and Jamaal Tinsley finished with 18 points and eight assists.
Late Wednesday
Clippers 102, Blazers 98
Los Angeles -- Corey Maggette scored 15 of his 31 points in the final quarter and hit a key jumper with 20 seconds remaining to lead Los Angeles over Portland. The Trail Blazers, losers of four of their last five, were missing Shareef Abdur-Rahim, who didn't suit up because of a lingering problem with his right elbow..
Copyright 2018 The Associated Press. All rights reserved. This material may not be published, broadcast, rewritten or redistributed. We strive to uphold our values for every story published.