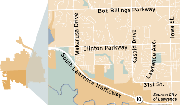 The area of Lawrence south of 15th Street and west of Iowa Street is one of the fastest growing areas of town -- and the location, on the west, of some of the newest residences in the city.
It's so new, in fact, that only a few neighborhood organizations -- a staple of Lawrence life -- have formed. But that doesn't mean that folks here aren't neighborly.
"I see this being a real friendly neighborhood," said Neva Wilson, a member of the Sunflower Neighborhood Assn. southeast of Clinton Parkway and Wakarusa Drive. "There's always people walking around, walking their dogs, and there's always kids playing. People are always comfortable getting out and mingling in the neighborhood."
There's also plenty of amenities. Residents of the area border the southwest corner of Kansas University campus. The area includes KU's Lied Center -- home to touring musicals, lectures and other events -- and the new Dole Center, which brought former President Bill Clinton to Lawrence in 2004.
Golfers will love the area: Southwest Lawrence is home both to Alvamar Public Golf Course and the city-owned Eagle Bend Golf Course.
Residents have easy access to other recreational opportunities as well -- softball facilities and an off-leash dog park abutting nearby Clinton Lake, and the Holcom Park Recreation Center, which provides a gymnasium, weight room and raquetball courts to the community free of charge.
Shopping opportunities abound. Residents have easy access to the South Iowa Street corridor, home to "big box" stores such as Target, Home Depot, Best Buy and Wal-Mart, as well as a variety of car dealerships, restaurants and other stores.
Groceries and other dining opportunities can be found in the neighborhood shopping center at 23rd Street and Kasold Drive.
The Census Bureau marks out four distinct neighborhoods in southeast Lawrence:
The area between 15th Street on the north and Clinton Parkway on the south, between Wakarusa Drive and Lawrence Avenue on the west and east. Half the homes in this area were built after 1987, according to the Census; the average age of residents here was just over 38 years.
Young students attend either Quail Run Elementary or Langston Hughes Elementary, two of the newest schools in town.
The area southwest of Clinton Parkway and Kasold Drive. Half the homes here have been built since 1995, according to the Census; the average age of residents is just over 25 years old.
Students here attend Sunflower Elementary School.
The area ofsouth of Clinton Parkway, between Iowa Street and Kasold Drive. This is the oldest part of southwest Lawrence; half the homes were built before 1983. And befitting its proximit to KU campus, it's also home to one of the youngest neighborhoods; the median age is just under 25 years old.
Students here attend Hillcrest Elementary School.
Everything west of Wakarusa. This area is home to the city's very newest homes -- half the residences here were built after1997. The average age of a resident here is just over 35 years old.
Students here attend Langston Hughes Elementary.
Students in southwest Lawrence normally attend Southwest Junior High and Lawrence High School.
"I'd say they probably can't find a better, cheaper area to live in," Wilson said of her neighborhood. "A lot of the neighborhoods are young people starting out, or with small families. It's something they can afford."
Copyright 2018 The Lawrence Journal-World. All rights reserved. This material may not be published, broadcast, rewritten or redistributed. We strive to uphold our values for every story published.