As far as brooding writers go, Mickey Cesar fits the stereotype.
The twiggy bard haunts the corners of darkened Lawrence coffeehouses, smoking cigarettes, nursing cups of joe and scrawling pensively in notebooks.
So it surprised a lot of Cesar's friends when they found out in early fall that he'd been mobilized to serve in Operation Iraqi Freedom.
Few knew the poet was also a soldier.
"It's wonderfully absurd, really," says Cesar, a staff sergeant in the Lawrence-based 317th Quartermaster Battalion.
"(My friends) had no idea I was even a veteran, much less an active reservist," he continues in an e-mail from Kuwait. "They would never have imagined me in body armor, driving a Humvee, or firing an automatic weapon.
"Similarly, I'm here in the desert, choppers flying overhead, bombs and artillery practice echoing in the distance, and some young man with an M-16 might ask when they see me scribbling in the wheel-book I keep in my cargo-pocket.
"When I tell them I'm a poet, most don't even know how to react."
Since October, Cesar has been stationed at the aptly named Camp Buehring, Kuwait, which he describes as a "one-square-mile litterbox" a few miles from the Iraqi border. But he's home for two weeks to celebrate the release of his first full-length poetry collection, "Vanishing Point" (219 Press).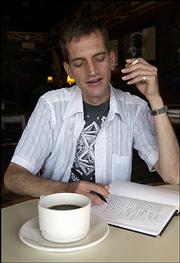 The book covers about three year's worth of work and includes 54 poems, most of which deal with loss in some form.
"These are poems of Saturday nights alone and Sunday morning cafes full of cigarette smoke, coffee gone cold and longing," Lawrence poet and editor Brian Daldorph writes of "Vanishing Point."
Gary Lechliter, author of "Under the Fool Moon" and editor of I-70 Review, says, "Mickey Cesar's poems are important chronicles of the human experience."
Living in the past
Cesar writes about boxes of letters rotting in closets, children's toys left unattended and gathering mud in yards, underwear lying forgotten in the corner, and the breaths, whispers and shared silences of past encounters.
"One thing that makes writers different from a lot of people is that they'll take a transitory thought or feeling and hold onto it, make something of it," says the 40-year-old Cesar, who served in the Navy before joining the reserves. "I might be having the most beautiful, serene day ever and then just get a quick-flash memory of some old ghost, something disturbing or haunting, and get it down on paper.
"'Living for the moment' is all fine and good in theory, but the truth of it is we all live in our pasts just as much as anything."
Cesar adopted Lawrence as his hometown in 1996. But he was born in Plattsburgh, N.Y., and has lived in Ohio, Florida, Texas, Nebraska, California and Virginia (his father was an officer in the U.S. Air Force).
When he's not whiling away his time writing in Lawrence holes-in-the-wall, working on an English degree at Kansas University or organizing local poetry readings, Cesar repairs televisions in the dark basement office of Audio-Video Services.
He's a bachelor -- he tells you so in his poems -- and he lives with an 18-pound tomcat named Alexander Nevsky. He has published six chapbooks, and his poems have appeared in a number of journals.
Poet Jason Wesco, founder of Perry-based 219 Press, is drawn to the intensity of Cesar's work.
"I also feel that solitary sense that comes from good writing. It's the feeling of coming to know, if only for a flash, a person doing his best to be himself at a particular point in time," Wesco says. "There is no artifice in Mickey's work. Sure he writes about women, alcohol, cigarettes and coffee. But this is his reality, not some made up writerly schtick."
Personal snapshots
And Cesar doesn't expect anybody to like the persona they encounter in his poems.
"One thing I have learned is that there's always going to be a huge difference between the way people see me and how I'd like to be perceived," he says. "I'm not a saint by any means. A lot of my history is not particularly appealing. This book is just a lot of snapshots of the world I live in and some of my own life. If I tried to assume any different sort of voice, I don't think my work would have any real appeal.
"When I'm reading another poet's work, I look to see if they have captured any of my stray thoughts or feelings. I just hope that others will find a few pieces of themselves in my work."
Lawrence poet Mickey Cesar will read selections from his new book, "Vanishing Point," 8 p.m. Saturday at the Lawrence Arts Center, 940 N.H. Also on the bill are W.E. Leathem, Ed Tato and Brian Daldorph. Cesar also will read 3 p.m. Sunday at Prospero's Books, 1800 W. 39th St., Kansas City, Mo. Chris Citro, Ed Tato and Jason Wesco will join Cesar at Prospero's.
As for future poetic musings, Cesar knows his overseas experience will figure into his work. He's a night-shift supervisor, directing mostly bulk water and fuel deliveries for troops who rest, assemble and train at the camp before moving north to Iraq.
He and two other soldiers who are also KU students -- Nick Weyers, a senior engineering major, and John McCoy, a defensive end on Mark Mangino's football squad -- keep a bulletin board of Jayhawk press clippings in the office.
"There is nothing out here," Cesar says. "All the water for showers, laundry and dining has to be trucked in from the city. ... My work is alternately busy and insanely boring."
On the bright side, the long periods of inactivity leave Cesar time to write -- a love-hate avocation he describes in the book's opening poem: "like a dog":
Like a dog to a dead squirrel,
returning again and again
to the scene of small carnage,
so goes the pen
and mind
in those blank moments
to the echo of angry words
dissonantly wrong
and unfading.
"On the quietest of nights, the skeletons in the closet still lurk," Cesar says. "A writer will open that door and kick those bones around again and again. Like a dog, I'll always have to check whether those things are still dead.
"And so I'm still writing out here in the desert: My baggage made the plane, too."
these wallsBy Mickey CesarThese walls well knowI miss you,the way you'd shakeand wrap me around you like a well-worn coatin winter.This ink has a thousand times recalledyour poutingand your deep unhappiness that no words could describebut which stares out the windowat aimless highway milesof a Kansas summer,a barefoot dash in torrential rainand also aimlessand too cold for comfort.Even the carpet knowsI miss your underwearlying forgotten in the corner,blue lace 32-B,size seven ring,and that pair of Levisgone forever --Your smile occupies a mansionin my heart and mindand these hands well knowI miss you.a moment like any otherBy Mickey CesarHe has no chin,just a long, loose, scaling arc of fleshfrom below his nose to the nape of his neck.He sits, a khaki-slacked hunchback,cloudy blue eyes of the type which frighten childrendrinking coffeebehind an ashtray full of chocolates --and spread meticulously before him,the instruments of a deliberate, impotent pyromania:lightercandletweezershemostatsunwrapped cellophaneand a stack of napkinsbeside a brown pile of coffee-stirrersto consign to the flames.His once-fleshy hands dance to the paceof the flies which crawl on the tabletop,and he daresone and all to haltthe combustion of his dreams.
Copyright 2018 The Lawrence Journal-World. All rights reserved. This material may not be published, broadcast, rewritten or redistributed. We strive to uphold our values for every story published.