Miami — To formulate his game plan, Miami coach Stan Van Gundy watched hours of tape, studied the New York Knicks' tendencies and reviewed scouting reports.
And after all that, he went with the simplest possible approach -- pounding the ball to Shaquille O'Neal.
O'Neal turned in one of his most complete performances of the year, a 33-point, 18-rebound effort that helped the Heat defeat New York, 102-94, Wednesday night, extending the Knicks' slide to three games.
"I was kidding with him before the game. I said 'We need a great one tonight, like 30 and 15,'" Van Gundy said. "That's coaching, guys. That's coaching, right there."
O'Neal made 14 of 21 shots from the floor for the Heat (26-8), who showed no ill effects from Monday's home loss to Seattle that snapped a franchise-record 14-game winning streak.
"They weren't really doubling that much and I always tried to take the high-percentage shot. A couple of them fell," O'Neal said. "We felt pretty good tonight. We wanted to come back and get a big win after a tough loss the other night."
Dwyane Wade scored 21 points, his 11th straight game of 20 or more, and added a game-high nine assists for the Heat, who held a 44-32 rebounding margin and limited the Knicks to two field goals in a seven-minute stretch of the first half.
Bulls 95, Hornets 89
New Orleans -- Kirk Hinrich scored 19 points, and Eddy Curry added 17, helping Chicago hand New Orleans its ninth straight loss. New Orleans, led by Baron Davis' 21 points, erased a 14-point deficit in the second half.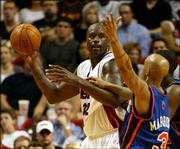 76ers 106, Jazz 99
Salt Lake City -- Allen Iverson scored 10 of his 23 points in the fourth quarter, and the 76ers won in Utah for the first time in four years.
Celtics 84, Warriors 83
Boston -- Paul Pierce had 19 points, eight rebounds and eight assists to make up for a poor outside shooting night, and Al Jefferson had his first career double-double with 10 points and 11 rebounds.
Cavaliers 101, Hawks 85
Cleveland -- Zydrunas Ilgauskas scored 20 of his 28 points after halftime, leading Cleveland. LeBron James added 20 points, nine assists and six rebounds.
Bobcats 102, T'wolves 84
Charlotte, N.C. -- Gerald Wallace had 21 points and 12 rebounds, leading Charlotte. Wallace had one of his best games as a Bobcat, turning it up during a 16-1 run that helped Charlotte break its six-game losing streak.
Bucks 97, Nets 74
Milwaukee -- Joe Smith and Mike James each scored 17 points, leading Milwaukee. Desmond Mason added 16 for the Bucks, who had lost three straight.
Mavericks 118, Lakers 104
Dallas -- Jason Terry scored a season-high 28 points and was nearly perfect both in shooting and in running the Dallas offense, leading the Mavericks. Terry was 9-of-10 on field goals, hitting all five three-pointers he attempted. He hit five of six free throws and added six rebounds and five assists.
Suns 108, Rockets 98
Houston -- Shawn Marion scored 22 points, and Quentin Richardson added 18 points and 14 rebounds, leading Phoenix. Amare Stoudemire finally cooled off after a torrid two-game stretch in which he scored a total of 84 points, finishing with just 19 points and nine rebounds. But his Suns teammates picked up the slack.
Magic 105, Sonics 87
Orlando, Fla. -- Steve Francis scored 27 of his 35 points after halftime, and Orlando snapped a four-game losing streak. Grant Hill scored 21 points, shooting 9-for-11, with seven rebounds and six assists. Cuttino Mobley added 13 points, and Hedo Turkoglu scored 14 off the bench.
Raptors 96, Kings 93
Toronto -- Chris Bosh had 23 points and 13 rebounds, leading Toronto over Sacramento. Bosh recorded the first back-to-back 20-point games of his career.
Copyright 2017 The Associated Press. All rights reserved. This material may not be published, broadcast, rewritten or redistributed. We strive to uphold our values for every story published.