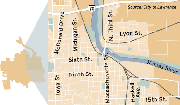 This is where Lawrence began.
The area of the city north of 15th Street and east of Iowa Street is the oldest part of town -- the place where much of the state's "Bleeding Kansas" history was lived during the 1850s, where Kansas University has made its home for more than a century and where Massachusetts Street shopping makes for a downtown envied by communities across the nation.
"It's got distinctive architecture, and the closeness to downtown," said Dale Slusser, who lives in the Old West Lawrence neighborhood just west of downtown. "People walk to downtown all the time who live here."
There are actually a number of different neighborhoods packed into northeast Lawrence.
¢ NORTH LAWRENCE: This section of town north of the Kansas River was once a separate city -- and today retains a touch of prickly independence. According to the 2000 Census, the residents are older here than just about anyplace else in Lawrence, with a median age of 36.5 years.
The homes are also on the older side, according to the Census, with half built before 1964. Roughly three-fourths of the homes in this neighborhood are owner-occupied. The neighborhood includes manufacturing and industrial zones, mostly along the railroad line that runs parallel with the river.
North Lawrence residents lament the lack of grocery store in their neighborhood; shopping options in the area are mostly designed to serve travelers on nearby Interstate Highway 70.
Young students here attend Woodlawn Elementary School and Central Junior High.
Residents here have the best access in town to Riverfront Park, a bicycling and jogging trail on the Kansas River levee that extends more than five miles in both directions from its intersection with the U.S. Highway 59 Bridge. Two smaller neighborhood parks, Lyon and Taylor parks, are within walking distance of most North Lawrence homes.
¢ EAST LAWRENCE/BROOK CREEK: This area east of downtown is home to artists and blue collar workers, with neighborhood associations that are known for their active involvement in City Hall politics.
About half the homes were built before 1955, according to Census records. The average age of neighborhood residents is younger than North Lawrence -- just under 30 years old -- but not dominated by Kansas University students. Less than half the residents here, however, own their own homes.
The neighborhoods border downtown, home to boutique shops, coffeehouses and restaurants. Small furniture and home improvement stores dot the area in out-of-the-way locations.
Students here attend New York and Kennedy elementary schools, then graduate Central Junior High.
Residents here have ready access to South Park, one of the city's showcase parks, and the East Lawrence Recreational Center, along with a variety of smaller neighborhood parks.
¢ OREAD: This neighborhood on the eastern border of Kansas University campus is filled with students -- portions sometimes known as the "student ghetto" --ut is also home to some of the city's most historic homes.
Half the homes here were built before 1955, and the vast majority of residents rent instead of own. The median age of a resident, according to the census, is about 22 years. Few homes here have driveways accessible from the street; instead, parking is in the rear or on the street in most cases.
Oread residents are just a short walk away from downtown; they also have easy access to the banks and convenience stores that line Ninth Street.
Students here attend Cordley Elementary School, then graduate Central Junior High.
¢ PINCKNEY: Much of this neighborhood north of Sixth Street and south of the Kansas River was recently named to the National Register of Historic Places. Half the homes here were built before 1973, according to census records. Residents here have an average age of just over 27 years old; renters slightly outnumber homeowners here.
Residents have easy access to the Sixth Street shopping corridor, which includes a number of restaurants and other strip mall activities.
Students here attend Pinckney Elementary School, then graduate West Junior High.
¢ OLD WEST LAWRENCE: This neighborhood --sandwiched on the north and south by Pinckney and Oread neighborhoods, respectively -- is location of some of the stateliest old houses in the city. Though some university students live here, most choose to rent apartments in the neighboring Hillcrest and West Hills neighborhoods to the west. Collectively, residents in the three neighborhoods have an average age of just under 23 years.
Depending on their location, young students in these neighborhoods attend Hillcrest Elementary School, then graduate to Central Junior High or West Junior High.
Langston Hughes, the "Harlem Renaissance" poet, lived in northeast Lawrence as a child and attended Pinckney and New York schools. Students in northeast Lawrence normally attend Free State High School.
Copyright 2017 The Lawrence Journal-World. All rights reserved. This material may not be published, broadcast, rewritten or redistributed. We strive to uphold our values for every story published.