Austin, Texas — Heather Schreiber found her shooting touch for No. 7 Texas.
Schreiber snapped out of a scoring slump with 18 points, and two-time defending Big 12 Conference champion Texas opened league play with a 66-51 women's basketball victory over Kansas University on Wednesday night.
"I've been trying to turn it up for a while, and it just hasn't worked out," Schreiber said. "It felt really good. It's been frustrating to me to struggle like I have."
Schreiber, a senior who had been the Longhorns' best all-around player during her career, scored a total of 12 points in the previous two games. One of those was a 51-47 loss to No. 14 Rutgers on Sunday that snapped Texas' 41-game home winning streak.
She had eight by halftime against Kansas and hit a pair of key three-pointers in the second.
The Jayhawks (7-5, 0-1) were a preseason pick to finish last in the league, but put up a fight that kept the game close until late. Texas (8-3, 1-0) was the unanimous preseason pick to win the Big 12.
"If Kansas is No. 12, it's going to be a long, tough conference schedule," said Texas coach Jody Conradt, whose team next travels Saturday to play third-ranked Baylor.
Tiffany Jackson added 21 points for Texas, which shot 56 percent from the floor and outrebounded Kansas 31-18.
Erica Hallman scored 20 to lead the Jayhawks.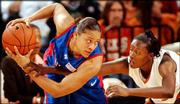 The Longhorns have struggled to hold leads this season -- they blew an 18-point second-half advantage against Rutgers -- and had trouble building one in this game.
First-year Jayhawks coach Bonnie Henrickson figured the best chance to pull off the victory was to keep the score low.
"We knew coming in we'd have to be prepared to keep it in high 50s or 60s," she said. "We're not a group right now that's going to run up and down and get in the 80s. Our kids deserve credit with executing a game plan."
The Longhorns led 34-26 at halftime before Kansas rallied behind three straight three-pointers from Hallman and Kaylee Brown.
Hallman was falling down in the lane when she put up a shot that rattled around the rim at the shot-clock buzzer before dropping in to cut Texas' lead to 47-43.
"I was thinking we need to really buckle down here and answer because they're shooting lights out," Conradt said.
"It's about maintaining focus," she said. "I really believe that in the games we lost, we relaxed while our opponent picked it up. Hopefully, we have learned that lesson."
Leads are much easier to hold when Schreiber is hitting her shots.
After Hallman's falling-down shot, Schreiber hit her second three-pointer. Her steal and layup with six minutes left keyed a 10-0 run that helped the Longhorns stretch a three-point lead to 60-47.
"Coach has been telling me to just keep shooting," Schreiber said. "I knew eventually it would work out."
Copyright 2018 The Associated Press. All rights reserved. This material may not be published, broadcast, rewritten or redistributed. We strive to uphold our values for every story published.