Richard Ice, 58, has lived on his family's farm in Douglas County practically his entire life.
Recently, Ice was recognized as the Outstanding 4-H Alumni in Douglas County. He joined 4-H in 1954 as a member of the Stull Busy Beavers 4-H Club. Today, Ice, who graduated from Lawrence High School in 1964, runs his family farm.
Q: I understand that you realized you could be successful as a cattleman when you purchased your first calf. How old were you and what about cattle interested you?
A: As a little kid growing up, we always had cattle around. They were the mainstay of my family's farm -- cattle and hogs. I was 6 or 7 when I got my first heifer and from then on I started building a herd. I always helped out on the farm and while I was going to school, my dad let me keep building my herd. We'd save heifers and that's how I would build a cow herd. I suppose even today, we could trace the herd back to the original cow.
Q: That's pretty amazing. Did you ever think about doing anything else?
A: Not really. I guess I always enjoyed it. I enjoyed the outdoors, being my own boss. After I got married, I did a few odd jobs around but it just wasn't as enjoyable as doing what you want to do. So, I guess I never did want to do another job.
Q: What were some of the odd jobs you did?
A: I was the township maintenance man for a couple of years and I worked with heavy equipment for a bit to kind of supplement income. But I decided that's not what I wanted to do.
Q: Has the mad cow scare affected your business or job at all?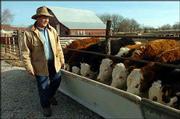 A: Naturally, it affected the market somewhat. Not as much as maybe it could have. I think the farmer gets a bad rap from some groups, like PETA. They don't know what does go on out here and that we do take care of our cattle. If we didn't take care of them and treat them ethically, we'd be hurting ourselves. I think the livestock industry -- a scare could always affect us, but it seems to just kind of work out and keep on going. Sometimes, we may have to wait awhile and let things blow over before we sell or do something but it all seems to work out.
Q: I understand you were a volunteer firefighter. What prompted you to do that?
A: I was the clerk for the Kanwaka Township Board for quite a few years and I was in on buying the first fire truck for the rural fire department. Of course, we didn't have anybody to run it. So, I volunteered there just to help out and to get it going.
Q: What other organizations have you been involved with?
A: Well, from 1979 to 1985 I was on the Lawrence-Douglas County Planning Commission. In between, I think when the kids were in 4-H, I volunteered as a livestock leader because they didn't have one and they needed it. Right now, I'm on the zoning and codes committee. We're trying to rewrite it and put it in more simple language. That's been going on for two years now. And, right now, I'm on the Douglas County Fair Board.
Q: It seems like you're involved in a lot of things. What prompts you to get involved?
Birth date: June 22, 1946.Occupation: Rancher/farmer.Family: Wife, Karen; three adult children; four grandchildren.Education: Lawrence High graduate 1964; studied one year at Kansas State University.Favorite place: The family farm.Favorite food: Enjoys everything, but a steak is generally good.
A: Well, in some cases, like planning and the zoning, I just wanted to make sure people living in rural areas had a voice and a say in what was happening. And of course 4-H and the fair board, I've always enjoyed that. So, I thought, we'll give it a try.
Q: Do you read books?
A: I usually read magazines like Smithsonian and National Geographic. It gives you a chance to see what life is like in other places and I probably won't be able to go to them, and they talk about history. Sometimes I think I was born in the wrong time period.
Q: Why's that?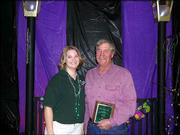 A: Well, I would have liked to have been in the time where horses were used rather than machines. Just seems like it would have been simpler. I think I would have enjoyed it.
Q: You've lived in Douglas County all your life. What do you like about living here?
A: Well, I guess I just see it as my county. It's always been my county. Things go along pretty well. Farmers, though, we're running into some development pressure now. A young person would have a really tough time getting into farming if they didn't have some ground or inherit some ground because land prices have skyrocketed. But as far as living in Douglas County, we have a lot. We have the university and a lot is going for it. There's culture and it's close to everything -- Topeka and Kansas City. A lot of people like that it's centrally located. We've also got trees and streams. It's a nice place.
Copyright 2018 The Lawrence Journal-World. All rights reserved. This material may not be published, broadcast, rewritten or redistributed. We strive to uphold our values for every story published.