When I conceived this feature last year, I figured our photo staff's wealth of images would give us plenty of things to write about. For the most part we have succeeded. Whether we have given insight on taking particular images or advice on equipment, we have attempted to give readers a unique perspective on what photojournalists experience on the job.
Now we would like to hear your experiences as casual shooters or avid hobbyists.
At least once a month in this column we would like you to let us take a look at some of your images, publish them and make comments. We want to hear about and see your favorite photos or read about your experience with new equipment or techniques. We need a break. It's your turn to do some of the work.
Here's what you can do. If you have an image you would like us to consider for discussion and publication in this column, you can submit it by e-mail or mail. Send jpeg images of no less than 4 by 6 inches at 200 dpi to myoder@ljworld.com, or mail photos or CDs to:
Behind The Lens
Lawrence Journal-World
c/o Mike Yoder
645 New Hampshire
Lawrence 66044
We cannot accept slides or negatives, and we cannot return submitted photos by mail unless the submission is accompanied by a self-addressed, stamped envelope.
With each image, please describe what you were attempting to capture in the photo. Also, please include any technical information you can: camera brand, digital or film, ISO rating, lens, etc. We would also like a brief description of your background in photography. Please include your name, age and hometown. Each month we will select one image for publication and discussion.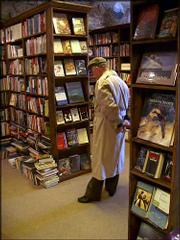 I've included a recent photo I took of my father browsing in a bookstore. There is nothing especially significant about the photo other than I rarely take his photograph. But this simple, candid snapshot, even a little blurry from a slow shutter speed, makes me realize all the moments when having a camera is so wonderful.
Now we invite you to share with us some of these moments and show us what makes photography enjoyable and meaningful for you.
---
"Behind the Lens" is an ongoing weekly series in which Journal-World photographers offer insights about specific photos or photography in general. Wondering how a certain picture was created? Nominate it for "Behind the Lens" by contacting chief photographer Mike Yoder at 832-7141 or myoder@ljworld.com.
Copyright 2018 The Lawrence Journal-World. All rights reserved. This material may not be published, broadcast, rewritten or redistributed. We strive to uphold our values for every story published.