In a culture where vacations are increasingly prized for their "gee whiz" factor -- swimming with sharks, zero-gravity rides and the like -- do people still take trips just to look at pretty flowers?
If attendance at public gardens is any indication, the answer is yes.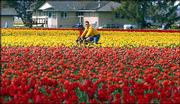 "Our anecdotal information from member institutions leads us to believe that attendance is up. Particularly after 9-11 there seemed to be a surge, perhaps people seeking natural beauty and serenity after all the man-made horror of the time," said Sharon Lee, spokeswoman for the American Association of Botanical Gardens and Arboreta.
To increase their year-round appeal, many public gardens have added art shows, concerts and family-oriented exhibits. A children's garden that opened at the Frederik Meijer Gardens & Sculpture Park in Grand Rapids, Mich., led to a 91 percent spike in attendance last July. New exhibits and a concert series helped push visitation at the Denver Botanic Gardens from 388,000 to 550,000 in four years.
But spring flowers also draw crowds, and every region has its treasures. Cherry blossom festivals are held in Washington, D.C., and at the Brooklyn Botanic Garden in New York. Philadelphia has one of the nation's best-known flower shows each March. And wildflowers color the landscape from the Blue Ridge Mountains to the Arizona desert, where above-average rainfall has created a bumper crop of spring flowers already in bloom, including pink fairy dusters, white silverbells and blue lupines.
The South, blessed with gentle winters and early springs, is particularly rich in gardens. Top picks from Gene Bussell, Southern Living magazine's garden editor, include Middleton Place in Charleston, S.C., which has one of the nation's oldest formally designed gardens, dating to the 1740s, and Dumbarton Oaks in Washington, D.C., which was elegantly landscaped by the renowned Beatrix Farrand.
But wherever you are, as the weather gets warmer, it won't be hard to find something beautiful in bloom. Here are some ideas from around the country about places to see spring flowers. Before you go, check on holiday closures, fees and hours, which may vary as the days get longer.
¢ Arizona-Sonora Desert Museum, 2021 N. Kinney Road, Tucson, Ariz., www.desertmuseum.org or (520) 883-2702. Abundant wildflower blooms through early April.¢ Bloedel Reserve, 7571 N.E. Dolphin Drive, Bainbridge Island, Wash., www.bloedelreserve.org or (206) 842-7631. Reservations required.¢ Chicago Botanic Gardens, 1000 Lake Cook Road, Glencoe, Ill., www.chicago-botanic.org or (847) 835-5440.¢ Denver Botanic Gardens, 1005 York St., Denver, www.botanicgardens.org or (720) 865-3500.¢ Fairchild Tropical Botanic Garden, 10901 Old Cutler Road, Coral Gables, Fla., www.fairchildgarden.org/ or (305) 667-1651.¢ Missouri Botanical Garden, 4344 Shaw Blvd., St. Louis, www.mobot.org or (800) 642-8842.¢ University of Wisconsin-Madison Arboretum, 1207 Seminole Highway, Madison, Wis., wiscinfo.doit.wisc.edu/arboretum/ or (608) 263-7888.¢ U.S. Botanic Garden, 100 Maryland Ave. S.W., Washington, D.C., www.usbg.gov or (202) 225-8333.
¢ Arizona: Wildflowers are already blooming in state parks like Picacho Peak and Lost Dutchman; www.azstateparks.com or (602) 542-4174.¢ Blue Ridge Mountains: Flame azaleas bloom in mid-June in Asheville, N.C.; mountain laurel in mid-May along Otter Creek, and in early June elsewhere; wildflowers in April. Park information: www.nps.gov/blri/ or (828) 298-0398.¢ Great Smoky Mountains National Park, Gatlinburg, Tenn.: Spring Wildflower Pilgrimage, April 25-May 1; www.springwildflowerpilgrimage.org/ or (865) 436-1200.¢ Rocky Mountains, Estes Park, Colo.: Wildflowers bloom at lower elevations in May and June, peaking in July. Park information: www.nps.gov/romo or (970) 586-1333.¢ Texas: Bluebonnets, Indian paintbrush and other wildflowers in the Hill Country bloom the last week of March through early April along Highway 290 from Austin to Fredericksburg and Interstate 35 between Dallas and San Antonio, or on any of the smaller Farm-To-Market roads in the hills north of San Antonio; www.tpwd.state.tx.us/park/wildflower/ or (800) 452-9292.
¢ Butterfly exhibit, Tuesday-April 30, Frederik Meijer Gardens and Sculpture Park, 1000 E. Beltline N.E., Grand Rapids, Mich., www.meijergardens.org or (616) 957-1580.¢ Cherry blossom festivals: April 30-May 1 at New York's Brooklyn Botanic Garden, 1000 Washington Ave., www.bbg.org or (718) 623-7200; and March 26-April 11 in Washington, D.C., at the Jefferson Memorial on the Tidal Basin, East Potomac Park and on the Washington Monument Grounds, www.nps.gov/nacc/cherry/indexB.htm or (202) 661-7584.¢ Daffodil Days, April 16-30, Blithewold Mansion, Gardens & Arboretum, 101 Ferry Road, Bristol, R.I., www.blithewold.org or (401) 253-2707.Dallas Blooms, Saturday-April 10, Dallas Arboretum, 8525Garland Road; www.dallasarboretum.org or (214) 515-6500.¢ Festival of Flowers, April 2-May 1, Biltmore Estate, Asheville, N.C.; www.biltmore.com or (800) 624-1575.¢ Garden Conservancy's Open Days, in which 400 private gardens in 21 states pick a day or more to admit the public between May and October; calendar at www.gardenconservancy.org/opendays_schedule.html or call (888) 842-2442.¢ Historic Garden Week in Virginia, April 16-24, sponsored by the Garden Club of Virginia: tours at 250 sites, from Mount Vernon and Williamsburg to private back yards; www.VAGardenweek.org or (804) 644-7776.¢ Meadowlark Hill Lilac Collection, which usually blooms the second and third weeks of May; Rural Route 1, Ogallala, Neb., or (308) 284-2524.¢ Nantucket Annual Daffodil Festival Weekend, April 22-24, Nantucket Island, Mass.; www.nantucketchamber.org or (508) 228-1700.¢ Orchid show, through March 27, New York Botanical Garden, Bronx River Parkway and Fordham Road, the Bronx, www.nybg.org or (718) 817-8700.¢ Tulip festivals: April 1-30 in Skagit Valley, Wash., www.tulipfestival.org or (360) 428-5959; May 5-7 in Pella, Iowa, www.pellatuliptime.com/ or (641) 628-4311; and May 7-14 in Holland, Mich., www.tuliptime.com or (800) 822-2770.¢ Wildflower Days festival, March 14-April 25, Lady Bird Johnson Wildflower Center, 4801 LaCrosse Ave., Austin, Texas, www.wildflower.org or (512) 292-4100.¢ Wistaria Festival in Sierra Madre, Calif., March 13, celebrating a 111-year-old vine (the locals use a historical spelling of wisteria) with more than 1.5 million blossoms; www.sierramadrewistariafestival.com or (626) 306-1150.
Chicago Flower & Garden Show, Navy Pier, March 12-20; www.chicagoflower.com or (312) 222-5086.Cincinnati Flower Show, 6201 Kellogg Ave. (at Coney Island), April 20-24; www.cincyflowershow.com or (800) 670-6808.New England Spring Flower Show, Bayside Expo Center, Boston, March 12-20; www.masshort.org or (617) 933-4900.Philadelphia Flower Show, Philadelphia Convention Center, March 6-13; www.philaflowershow.com or (215) 988-8899.San Francisco Flower & Garden Show, Cow Palace, March 16-20; www.gardenshow.com/sf/index.html or (415) 771-6909.
Copyright 2018 The Associated Press. All rights reserved. This material may not be published, broadcast, rewritten or redistributed. We strive to uphold our values for every story published.