Betty Norwood doesn't need 28 days in February to remind her of black history.
The social studies and reading teacher has lived and breathed it every day since being born in 1951 in Crystal Springs, Miss. As an only child growing up in the South, she remembers seeing white-only water fountains, restaurants prohibiting blacks and blacks living on one side of the town and whites on the other.
"I wasn't allowed to go to a public library because of who I was, even though my parents paid taxes like everybody else," Norwood recalled of her childhood experiences.
Norwood, the lone black teacher at South Junior High School, attended all-black schools in Mississippi, where all the teachers were black.
"The year I graduated (1968) was the year they integrated the schools in the town I lived in," she said.
A personal highlight Norwood often shares with her students occurred while she was a teenager in the mid-1960s. She saw Dr. Martin Luther King Jr. in person in nearby Jackson, 30 miles north of her hometown.
"He was giving a speech about the importance of registering to vote and going to the voting polls, and I'll always remember that," said Norwood, who proudly displays a sign that reads "South Students Value Diversity" in her classroom.
King is often studied in schools during February in conjunction with Black History Month. Norwood is fond of King's legacy but wants to make sure other contributions by blacks aren't overlooked.
"I really wouldn't care if they didn't have Black History Month because black history is so much a part of American history," she said. "It should be taught as American history is taught."
Norwood is the first black teacher Quintin Rucker has had. Rucker, a ninth-grader at South Junior High, is president of the school's Brothers in Harmony organization and works closely with Norwood, the club's sponsor. The club discusses real-life situations and is involved in community service projects.
"I respect her a lot," said Rucker, a black student. "You look around and see African-Americans living in the projects. As a black student, you have to take some pride to see Mrs. Norwood being a teacher."
Rucker never tires of Norwood sharing stories from her days growing up in Mississippi, especially since he is a King admirer.
"It has a big impact when she tells stories and you know what it's likes to be yourself in those shoes," he said. "It gives me a lot more respect for my ancestors."
Diversity challenged
Not many teachers in Lawrence are able to relate to Norwood's segregation experiences. She is one of 18 black certified staff members -- teachers and administrators -- in a Lawrence school district of 873 certified staff. At 2.1 percent, the district's percentage of black staff members is slightly ahead of the state's 1.9 percent.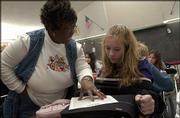 According to a September report, the Lawrence district of 15 elementary schools, four junior high schools and two high schools listed 9.5 percent of its 9,946 students as blacks. School officials would prefer if the percentage of black teachers and students were similar.
"The goal is to have staff diversity reflect the diversity of students," said Mary Rodriguez, the district's executive director of human resources. "Obviously that is challenged."
Rodriguez said she and other school officials have attended career fairs at state universities trying to recruit black teachers.
"To attract people to Kansas, we would need to go to those states that have a lower average teacher salary than we do," Rodriguez said. "If they go to openings in Las Vegas, Texas, Florida and California, they get huge signing bonuses."
Rodriguez said budget cuts restricted school administrators from traveling outside the area to recruit teachers.
"I've gone on a couple of recruiting trips with the district office," said Norwood, who has taught 17 years at South, which hasn't had another black teacher since her first year at the school. "I suggest maybe they go south or east because that's where you have a lot of predominantly black teachers, but they thought that was too far to go. The labor pool for black teachers in this area is very small."
During February, Rodriguez said school officials were surveying several teachers to pinpoint why they enjoyed working in Lawrence and how they thought the district could increase staff diversity.
"We wanted to find out what attracted them to come to Lawrence, what is keeping them here and to find out what suggestions they have to bring others here," she said.
'Culture shock'
After spending the first 21 years of her life in Mississippi, Norwood had to adjust to the cultural climate in Kansas.
"It was definitely a culture shock," said Norwood, a Kansas resident since 1972. "I had lived in Mississippi all my life. I just thought there were as many black people everywhere as there were in Mississippi until I came to the Midwest.
"That was the first time I had been away from home," she said. "We lived in Iola, Kansas, when we first moved here. It took a lot of getting used to."
Norwood now lives in Ottawa with her husband, Herman. They met in college at Alcorn State University, where she majored in social studies with a minor in English. He was an agricultural education major and now works for the Natural Resources Conservation Service office in Franklin County.
The couple lived in Iola, Newton and Wichita before moving to Ottawa, where Norwood was a substitute teacher for several years before becoming a full-time teacher in Lawrence.
Early influences
Norwood's mother was an early inspiration and encouraged her to become a teacher.
"She was not a teacher, but she strongly believed in education," Norwood said. "I first started out wanting to do social work. She said, 'No, you really need to get into education.' I was the first generation of my family who went to college."
One of Norwood's influences was Arlene Brown, a secondary English teacher at Crystal Springs High School.
"She let you know you could really do more than you thought you could," Norwood said. "She really challenged you."
Changing history
When Norwood attended Crystal Springs High School, the only black historical figures discussed in the classroom and mentioned in most textbooks were George Washington Carver and King.
In the 21st century, textbooks, including "American Journey" used in Norwood's class, feature the accomplishments of more blacks, such as astronaut Mae Jemison, poet Margaret Walker, author Toni Morrison and Madame C.J. Walker, one of the first women to become a millionaire for hair-care products.
"The books have gotten better with incorporating African-American contributions to American history," she said.
Jazmine Coleman, president of the junior's Women in Color, said she revered Norwood and the experiences she was able to share.
"She's an outgoing person," she said. "She likes to have fun in the classroom."
Copyright 2018 The Lawrence Journal-World. All rights reserved. This material may not be published, broadcast, rewritten or redistributed. We strive to uphold our values for every story published.