Moscow — Speaking from the courtroom cage where he has sat throughout his nine-month trial on tax evasion charges, the founder of Russia's largest oil company defiantly proclaimed his innocence Friday and said prosecutors had fabricated the whole case against him.
Mikhail Khodorkovsky read from a thick sheaf of notes in three hours of testimony as he methodically responded to each accusation, concluding each time that prosecutors had made "deliberately false declarations."
"I do not consider myself guilty of a single charge," Khodorkovsky said in his first official court statements since his trial began.
The former CEO of the shattered Yukos oil giant said he had managed a successful company "and helped a number of others to rise from the ruins after the collapse of the Soviet Union."
The politically charged trial and the dismantling of Yukos -- once Russia's most transparent company -- have slowed Moscow's oil exports, helped push up prices and raised questions about investing in the country.
Observers say the trial and the parallel back-tax case against Yukos were launched by the Kremlin as punishment after Khodorkovsky funded opposition parties leading to parliamentary elections in 2003. President Vladimir Putin has repeatedly contended the investigation targeted a rotten business empire and its owners.
Prosecutors argue Khodorkovsky and business partner Platon Lebedev were part of an "organized group" that illegally won a 20 percent stake in Russia's biggest fertilizer component-maker, Apatit, using a complex web of shell companies in 1994. Khodorkovsky went on to build the Yukos empire on the basis of that acquisition.
Speaking from the cage where all defendants are held during proceedings, Khodorkovsky contended that state prosecutor Dmitry Shokhin -- sitting opposite in the blue uniform and gold lapels of the Prosecutor General's Office -- had failed to prove that he was "personally involved" in the events around Apatit or the other charges.
Even if he had been involved, Khodorkovsky said, no crime had been committed.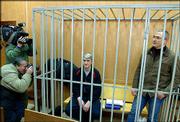 "The state prosecutor has not provided any evidence, but he tries to ... create it," Khodorkovsky said. He said he felt sorry for Shokhin, because "his role is to make a stand for the ... theories of others."
Shokhin, who declined to cross-examine Khodorkovsky, retorted that his testimony had been "invented by his lawyers."
Once Russia's biggest oil company, Yukos lost 1 million barrels of daily crude production when the government sold its core unit Yuganskneftegaz at a disputed auction in December. The unit was sold to pay off $28 billion in back taxes the government claimed Yukos owed.
In an 11th-hour attempt to stop the auction, Yukos filed for bankruptcy protection in a U.S. court in Texas. On Thursday, U.S. Bankruptcy Judge Letitia Clark court tossed the case out for lack of jurisdiction.
Copyright 2017 The Associated Press. All rights reserved. This material may not be published, broadcast, rewritten or redistributed. We strive to uphold our values for every story published.