Wichita — Boeing Co. will decide by midyear whether to halt production on its 767 assembly line, which needs a Pentagon contract for air-refueling tankers to stay in business, chief executive Harry Stonecipher said Thursday.
"If the tanker program doesn't come on in a timely basis, then we are going to have a line break," Stonecipher said. "Then restarting the line costs somebody some money."
Speaking before the rollout of a 767 modified into a tanker for the Italian Air Force, the head of the Chicago-based aerospace giant said a shut down 767 assembly line could be restarted if the U.S. Air Force moved ahead on a contract to replace its aging fleet of KC-135 tankers.
But such line breaks are expensive and inconvenient, Stonecipher said, and if there is a stoppage, Boeing would perform half of the 767-to-tanker modifications work during the jet's initial assembly in Everett, Wash., rather than at the company's plant in Wichita.
Last year, Congress rejected a previously approved $23 billion deal for a new fleet of air-refueling tankers, citing ethical concerns about the role of a former Pentagon procurement official. Darleen Druyun was sentenced in October to nine months in prison for lining up a job with Boeing while she was overseeing the contract review.
The Pentagon is expected to reopen the tanker competition later this year. Boeing's only serious competition for the contract would likely be from Europe's Airbus SAS.
Under the original deal, Boeing planned to perform the work of modifying its 767 civilian airframe into a military tanker at its defense plant in Wichita.
The cost savings of doing the work in Washington, rather than in Kansas, are "not insignificant," Stonecipher said.
"It would make us more competitive," he said.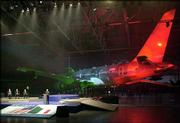 The Italian Air Force ordered four tankers based on the 767 airframe; an Italian firm is modifying the three remaining planes. Japan also has ordered four of the planes, although it is uncertain where they will be modified into tankers.
Thursday's rollout of the Italian tanker came less than a week after Boeing's former chief financial officer, Michael Sears, was sentenced to four months in prison for illegally negotiating a $250,000-a-year job for Druyun, talks he conducted while she was reviewing Boeing's bid for the tankers.
On Tuesday, Boeing sold its commercial aircraft plant in Wichita, along with two smaller sites in Oklahoma, to Onex Corp., a Toronto-based investment group. As part of the company's strategy to focus on design and final assembly in commercial airplanes, Boeing had been looking for a buyer for more than a year.
Stonecipher said Thursday that Boeing decided in October to negotiate only with Onex after other bidders expressed intentions to divide the facility.
About 7,200 people work at the Wichita commercial plant, along with as many as 1,300 at two smaller facilities in Oklahoma. Boeing's defense operations in Wichita, which employ about 5,000 workers, were not involved in the sale.
Copyright 2018 The Associated Press. All rights reserved. This material may not be published, broadcast, rewritten or redistributed. We strive to uphold our values for every story published.