EAST LANSING, MICH. — Alan Anderson got choked up -- and it had nothing to do with earning a spot in Michigan State's record books.
Anderson didn't miss and scored a career-high 28, leading the 10th-ranked Spartans to a 77-64 victory over No. 20 Wisconsin on Thursday.
He was 10-of-10 from the field and 7-of-7 from the line, becoming the fourth Michigan State player to take at least 10 shots without missing.
But the senior forward paused and stammered as he spoke after the game because the Spartans snapped a 12-game losing streak against ranked opponents and a six-game skid against Wisconsin.
"It was our last chance against those guys," Anderson said. "This one was big, man. They took our home-winning streak from us. They took a couple of championships, too. That's why we were so emotional."
The Spartans (20-4, 11-2 Big Ten) have won 10 of 11 since losing to the Badgers on Jan. 16, winning their last nine by double digits.
Those lopsided victories didn't quiet their critics because of the streak against ranked opponents since the regional finals of the 2003 NCAA Tournament.
"I don't think I could be happier for our players," Michigan State coach Tom Izzo said. "This has been hard on them. It wasn't like they conquered the world, but we beat a good team soundly."
Wisconsin's Mike Wilkinson scored 18 points, Alando Tucker had 16, and reserve Zach Morley added 11.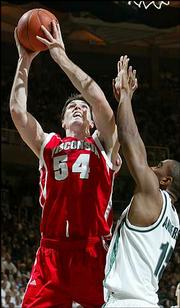 The Badgers (17-7, 8-5) have lost three of five, allowing Indiana to pull into a third-place tie in the Big Ten standings.
"We don't like to say it happens at Wisconsin, but they outworked us," Tucker said.
The Spartans beat Wisconsin for the first time since Feb. 27, 2001 -- thanks to Anderson.
Anderson, whose previous career high was 18 points, scored 11 straight points early in the first half. His one-man spurt gave Michigan State an 11-point lead, which it maintained easily.
No. 9 Arizona 57, Washington State 56, OT
Pullman, Wash. -- Ivan Radenovic made a pair of free throws with nine seconds left, lifting No. 9 Arizona to an overtime victory over Washington State. Derrick Low's three-point shot for Washington State rimmed out in the closing seconds, and Radenovic rebounded for the Wildcats (24-4, 14-2), who avoided being swept by the Cougars with their 17th straight victory at Pullman.
It was the seventh straight win for the Wildcats since losing to Washington State.
No. 12 Gonzaga 84, Portland 68
Portland, Ore. -- Ronny Turiaf had 14 points and 11 rebounds, and No. 12 Gonzaga clinched the West Coast Conference title for the fifth straight season.
Adam Morrison added 22 points for Gonzaga (22-4, 13-2), which has won nine straight. It is the ninth time since 1994 that the Bulldogs have won the regular-season conference championship. Darren Cooper had 20 points for the Pilots (15-14, 4-10), who have dropped four straight and eight of their last 10 games. It was Portland's regular-season finale.
No. 14 Washington 90, Arizona State 82
Seattle -- Tre Simmons tied a career-high with 29 points, including 12 during a four-minute span in the second half, and No. 14 Washington held off Arizona State.
Nate Robinson added 21 points for Washington, eight in the final 5:20, punctuated by a dunk with three seconds left. Washington (22-4, 12-3 Pac-10) kept pace with Arizona in the Pac-10. The Huskies are 11/2 games behind the Wildcats and will play host Saturday to Arizona.
Arizona State's Ike Diogu, leading the Pac-10 in scoring and rebounding, had a game-high 31 points and 15 rebounds. He was 17-for-18 from the foul line.
No. 24 Cincinnati 80, Marquette 68
Cincinnati -- Eric Hicks scored 17 points, and No. 24 Cincinnati used its strength inside to beat Marquette in the Golden Eagles' first game without leading scorer Travis Diener.
Jason Maxiell scored 14 points as Cincinnati (21-6, 9-4 Conference USA) let its formidable power forwards lead the way once again. Nick Williams added 16 points.
Copyright 2018 The Associated Press. All rights reserved. This material may not be published, broadcast, rewritten or redistributed. We strive to uphold our values for every story published.