America is saturated with awards shows. Starting around the first of the year, it seems every few days there is a Golden Globes or People's Choice or American Film Institute or Independent Spirit Awards, etc.
After sitting through many of these broadcasts out of morbid curiosity or sheer boredom, it becomes increasingly clear that the Oscars are the ONLY awards show that means anything.
They mean instant box-office. They mean added clout. They mean when movie stars die, the first words on the obituary are "Oscar-winning actor..."
And the Academy Awards are still the only show where anybody remembers the peripheral shenanigans. (Just try and name ANY moment from the past 30 Grammys telecasts.) Whether that involves Marlon Brando refusing his trophy because of the country's treatment of the American Indian or a fuzzy streaker interrupting David Niven or Adrien Brody soul-kissing Halle Berry, there are dozens of moments burned into our collective memories during the event's 77-year run.
Although rabble-rousers Michael Moore and Mel Gibson will be shut out from making any incendiary speeches this year, there is a chance for some controversial antics. Already first-time host Chris Rock has prompted the networks to impose a five-second "decency delay."
Decency? If I wanted decency I'd watch the Country Music Awards. I want controversy. I want suspense. I want credibility. I want the Oscars, baby.
But enough rambling. On to the predictions portion of our program.
Best Actor
Prior to the announcement of the best actor nominations, pundits had already declared this a two-horse race between Jamie Foxx in "Ray" and Paul Giamatti in "Sideways."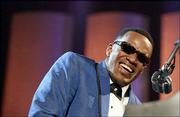 Then Giamatti inexplicably failed to get nominated, his slot taken by Johnny Depp, Don Cheadle, Clint Eastwood and Leonardo DiCaprio. While all of these are rather excellent nominees (yes, even Depp, who elevated the tame "Finding Neverland" to something noteworthy), none have much of a chance against Foxx.
As I wrote in my original review of the Ray Charles biopic, "Jamie Foxx gives the performance of the year as the late Charles. This is one of those rare biographical turns where the actor so completely immerses himself in the role that it ceases to be an impression and becomes more like a spiritual possession."
Nothing I've seen since then has changed my mind.
Best Actress
Things start to get tricky with the ladies. Conventional wisdom says it will be a showdown between Hilary Swank ("Million Dollar Baby") and Annette Bening ("Being Julia"). If this matchup looks familiar, that's because the pair went head-to-head five years ago when Swank's gender-swapping turn in "Boys Don't Cry" bested Bening's "American Beauty" stint.
However, the very fact that Swank landed an Oscar so recently leaves her vulnerable to a defeat similar to the one her character endures in the movie. Plus, after seeing her pick up prizes at the Golden Globes and Screen
Actors Guild shows, she should be banned from making any more gushy, "thank my agent" speeches.
Bening has plenty of momentum. In "Being Julia" she plays an aging, self-absorbed actress who carries on an affair with a younger admirer. If half the Academy's aging, self-absorbed actresses who have carried on affairs with younger admirers vote for her, then she might pull out the win.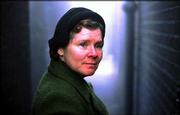 Although my two favorite performances of the year -- Catalina Sandino Moreno in "Maria Full of Grace" and Kate Winslet in "Eternal Sunshine of the Spotless Mind" -- will have to take solace in merely being nominated, this category is still poised for a major upset.
I'm banking on Swank and Bening splitting the vote and the little-known Imelda Staunton sneaking in with her good-hearted abortionist role in "Vera Drake." This setup reminds me of two years ago when Daniel Day-Lewis and Jack Nicholson were the overwhelming favorites and Adrien Brody ended up with the prize.
Plus, honoring Staunton's performance is one more way for the Hollywood left to stick it to the right-wing crowd.
Best Supporting Actor
Funny how three former TV comedians end up facing each other in dramatic big-screen roles.
Alan Alda ("The Aviator") and Thomas Haden Church ("Sideways") deliver worthy supporting characters, while Jamie Foxx's LEAD role in "Collateral" is inexcusably placed in this inappropriate category by the studio.
As a ruffian dermatologist in "Closer," Clive Owen gives the most impressive performance of the lot. Although the Brit merits the gold statue, Morgan Freeman will win it.
Sure, the veteran star who critic Pauline Kael once called the "greatest American actor" is traveling familiar territory in "Million Dollar Baby." He's played the scrutinizing narrator in several roles, most notably "The Shawshank Redemption." But this is his fourth nomination and he's never won before.
Face it: Giving Morgan Freeman an Oscar in any context can't be a bad thing.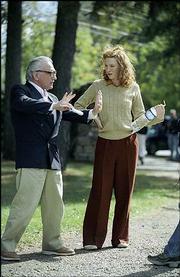 Best Supporting Actress
Four out of the five nominees in this talented group have a shot. (I'd exclude "Hotel Rwanda" newcomer Sophie Okonedo from this list.)
Everybody loves a comeback, and Virginia Madsen certainly falls into that class with "Sideways." Laura Linney ("Kinsey") is a well-respected nominee with previous Oscar experience. And Natalie Portman ("Closer) showed just how formidable a thespian she is when NOT being directed by George Lucas.
But there is something about Cate Blanchett in "The Aviator" that transcends all that. She manages to take the larger-than-life figure of Katharine Hepburn and play her like a real person, while absolutely nailing her physical and vocal traits in the process. It is a role that could have gone embarrassingly wrong in the hands of most other performers, and she absolutely owns it.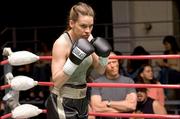 Best Director
I've said all along that the best picture and best director winners will not match up.
Mike Leigh ("Vera Drake"), Alexander Payne ("Sideways") and Taylor Hackford ("Ray") aren't even in the running. So it's about a 50/50 proposition between Martin Scorsese ("The Aviator") and Clint Eastwood ("Million Dollar Baby").
When: 7 p.m. SundayTelevision: Sunflower Broadband Channels 9 and 12The Kansas University theater and film department will have an Oscar-viewing party at6 p.m. Sunday at The Granada, 1020 Mass.
The fact that Scorsese has never taken home an Oscar before should imply he's a sentimental favorite. But there's a reason he's never won: The frequently brilliant director is still considered more of a New York maverick than a Hollywood insider. Whereas Eastwood is a well-liked, California old-schooler.
The factor that will separate the two this year is that "The Aviator" is much more of a "director's movie" than "Baby." Eastwood culls great performances from his cast, but his work is so cinematically subtle that it's hard to even compare it to Scorsese. I don't think Eastwood has the technical skill to mount a project as ambitious in terms of scope and visuals as his competitor. Eastwood is strong at slow, talky, moody efforts such as "Unforgiven," which he scored the directing award for in 1992.
When he attempts anything beyond that the result is rubbish like "Space Cowboys."
Best Picture
"Sideways" is too lightweight.
"Finding Neverland" is too manipulative.
"Ray" is too much like a made-for-TV movie.
Best picture winners historically fall into two categories: epic or emotional.
On the epic side there is "The Aviator." On the emotional end there is "Million Dollar Baby." The former inspires more admiration than genuine fondness. It's a technical triumph. It's flashy. It's intriguing.
The latter evokes a poignancy that lasts long after the movie ends. This film's dark finale has upgraded it to become the most controversial of the nominees at this year's Oscars. The ethical actions that its characters wrestle with are the subject of far more water-cooler conversations than any of these contenders. Regardless of one's moral objections to the project, watching "Million Dollar Baby" provides the most memorable experience of these five.
Copyright 2018 The Lawrence Journal-World. All rights reserved. This material may not be published, broadcast, rewritten or redistributed. We strive to uphold our values for every story published.