Some political-minded Lawrence residents are having a field day with the state's new advertising slogan, "Kansas: As big as you think."
Concerned about the state's push toward a constitutional ban on same-sex marriage, a Lawrence attorney this month printed and began distributing thousands of brown and yellow bumper stickers with the phrase "Kansas: As bigoted as you think."
"I guess I just wanted both to have a voice in this and to provoke people to think, because I don't want to see discrimination written into the constitution of my home state," attorney Jennifer Newlin said.
Newlin ordered 2,500 of the bumper stickers and has sold about a third of them. She said she was selling them in bulk locally and wanted to distribute them statewide.
The slogan also is being skewered by "The New World Order Peace Choir," the musical arm of the Lawrence Coalition for Peace and Justice.
To the tune of "Home on the Range" -- the state song -- the choir's song goes as follows:
"Hom- homophobe rage/ Let's all raise our glasses and drink/ A toast to our state, We''ll legitimize hate/ To Kansas -- as bigoted as you think."
So is a constitutional ban on same-sex marriage really "bigotry"?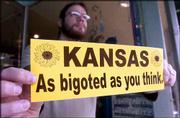 The Rev. Leo Barbee, pastor of Victory Bible Church and a supporter of the proposed ban, said he didn't think so.
"I think bigotry deals more with mistreatment of people based on their skin, culture or heritage," he said. "I don't think people have mistreated homosexuals in the same way. I think they have good jobs. I think they have good education, a lot of money."
Geri Summers, executive director of the Douglas County AIDS Project, thinks it's clearly bigotry, given that a state law already prohibits same-sex marriage.
"To me as a personal citizen, it's taking it a step further to say you are not included, and we intend that you never will be," she said. "I don't understand why someone needs to say that to me."
A spokeswoman for the state's commerce department, which launched the "As big as you think" campaign, declined comment on the parody.
Copyright 2018 The Lawrence Journal-World. All rights reserved. This material may not be published, broadcast, rewritten or redistributed. We strive to uphold our values for every story published.