SCOTTSDALE, ARIZ. — Barry Bonds angrily sidestepped questions about his role in baseball's steroid scandal upon his arrival at spring training Tuesday, pronouncing himself weary but ready to begin his pursuit of Hank Aaron's home run record.
In the 40-year-old Bonds' first public comments since his grand jury testimony was leaked to the San Francisco Chronicle and reported in December, he had nothing to say about it, citing legal constrictions. But he had harsh words for the media and fans still consumed by the circumstances of his record-setting home run binge.
"You guys are like re-running stories," Bonds said to the huge group of reporters in attendance. "This is old stuff. It's like watching 'Sanford and Son.' It's almost comical, basically. ... Are you guys jealous, upset, disappointed, what?"
The San Francisco Giants slugger, who has 703 homers, is on the verge of catching Babe Ruth, who is second on baseball's career list with 714. Aaron is first with 755.
Bonds, dressed casually in a black shirt and jeans, was asked whether he thought using steroids was cheating.
"I don't know what cheating is," he said. "I don't believe steroids can help your eye-hand coordination, technically hit a baseball. I just don't believe it. That's my opinion."
Bonds said the key to his continued success and strength even in the later years of his career had been "hard work, that's about it."
According to the Chronicle, Bonds testified to the grand jury in December 2003 that he used a clear substance and a cream given to him by a trainer who was indicted in a steroid-distribution ring, but said he didn't know if they were steroids. Prosecutors believe the substances were two steroids at the center of the BALCO scandal.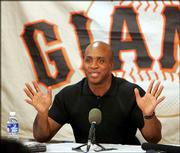 "I'm an adult and I take responsibility for what I do, but I'm not going to allow you guys to ruin my joy," Bonds said Tuesday.
He repeatedly refused to speak directly about BALCO, but he castigated everyone from the media to Jose Canseco, whose recently released book described a rampant culture of steroid abuse in baseball. Canseco has said he used steroids with several teammates, including Mark McGwire.
"I don't know Canseco, besides hello and goodbye. I don't put any weight into what he says," Bonds said. "Mark McGwire was a big boy in college. To me, Canseco, you've got to come with a whole lot more. ... It's to make a buck, that's all it is.
"I don't know Jose. I was better than Jose then, and I've been better than him his whole career.
Copyright 2018 The Associated Press. All rights reserved. This material may not be published, broadcast, rewritten or redistributed. We strive to uphold our values for every story published.