Hartford, Conn. — Connecticut coach Jim Calhoun was praising Marcus Williams by not using his name.
"The point guard, he's different than most point guards you see," Calhoun said of the sophomore, who finished a rebound shy of a triple-double in No. 17 Connecticut's 88-74 victory over Notre Dame on Monday night.
"He makes a significant difference in this team. There is no point guard better in the Big East. I'm not saying he's the best, but there is none better right now."
Williams finished with 17 points, 12 assists and nine rebounds. He entered the game averaging a Big East-best 7.9 assists and he added in some solid defense against Chris Thomas, who had 16 points on 6-for-15 shooting for the Fighting Irish (16-8, 8-6).
"The coaches have been pushing me hard all season, getting on me for every little thing I did," Williams said. "I think it's starting to pay off for me mentally."
Fellow sophomore Charlie Villanueva matched his career high with 25 points as the Huskies (18-6, 10-3) won for the sixth time in seven games and lifted Calhoun within two wins of becoming the sixth active coach with 700.
"Marcus did a great job of finding me and giving me the ball in the right position where I can score," Villanueva said. "We have a good relationship on the court and I'm just real familiar with his game. I go to the right places, he's going to get me the ball. He's a great passer. I believe he's college's best secret."
Colin Falls led Notre Dame with 19 points.
New Mexico 65, No. 13 Utah 54
Albuquerque, N.M. -- Mark Walters scored a season-high 22 points, and New Mexico snapped Utah's 18-game winning streak.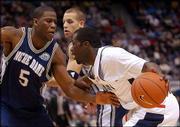 The Utes (23-4, 11-1), who clinched the Mountain West regular-season title with a victory Saturday over Air Force, shot just 37 percent. Utah entered the game ranked second in the nation in field-goal percentage (52.8) and third in rebounding margin.
Utah center Andrew Bogut, averaging 20.6 points and 11.8 rebounds, finished with 15 points and 13 rebounds. He was 3-for-11 from the field in the second half.
The Lobos (20-6, 7-4) are 6-1 in their last seven games.
No. 25 Nevada 70, Tulsa 56
Reno, Nev. -- Nick Fazekas had 15 points and 15 rebounds, helping Nevada win its first game ever as a ranked team.
Jermaine Washington scored 13 points, Kyle Shiloh had 11, and Kevinn Pinkney added 10 points and 10 rebounds for the Wolf Pack (21-5, 13-2 Western Athletic Conference) in their seventh straight victory.
Nevada, which moved into the Associated Press poll earlier Monday, has its best record at this point in a season since starting the 1945-46 season 21-4. The Wolf Pack outrebounded Tulsa 48-35.
Jarius Glenn led Tulsa (7-17, 3-11) with 16 points, and Chris Wallace added 11.
Copyright 2017 The Associated Press. All rights reserved. This material may not be published, broadcast, rewritten or redistributed. We strive to uphold our values for every story published.