Woody Creek, Colo. — They say the Woody Creek Tavern, with its leopard-print carpet and chipped wooden booths, is the center of the universe in this hamlet a few mountain tops from Aspen.
For Hunter S. Thompson, it was bigger than that.
The hard-living journalist, who committed suicide Sunday, held court in this pleasantly seedy saloon for decades. He preferred the barstool by the door, where he could tuck himself in on cold winter nights, swig Chivas Regal and rail against the world.
Friends of the man who coined the term "gonzo journalism" and wrote best sellers such as "Fear and Loathing in Las Vegas" gathered around the bar Monday, trying to figure out this last, most shocking chapter of an already outrageous life.
"I don't know why he would leave us like that," said Gaylord Guenin, a local journalist who had known Thompson for 30 years. "I hope it was an accident -- I'd feel better if it was."
Steve Bennett, a bartender, stared at the stuffed marlin on the wall and considered the point.
"Well, it could have been an accident; he always had loaded weapons around," Bennett said. "Anyone who would shoot propane tanks with a .357 magnum could have easily done something like this by accident. And if a weird thought crossed his mind, he would act on it without thinking twice."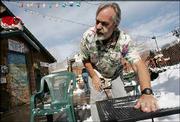 Thompson, 67, was found dead in his kitchen Sunday evening with a single gunshot wound to the head. The Pitkin County Sheriff's Department said the death was a suicide.
On Monday, friends said they had noticed nothing out of the ordinary about the journalist -- at least nothing that was at odds with his mercurial temperament. But Thompson's health had been fading. He had been staying home more often because of painful back surgery, a hip replacement and a recently broken leg.
"I saw him last week, and he didn't look too good," Bennett said. "He seemed upbeat, but he had so many mood swings it was hard to tell. He was a larger-than-life character who will be hard to replace, and I'm not sure you'd want to."
¢ "Hell's Angels: A Strange and Terrible Saga" (1966)¢ "Fear and Loathing in Las Vegas: A Savage Journey to the Heart of the American Dream" (1972)¢ "Fear and Loathing: On the Campaign Trail '72" (1973)¢ "The Great Shark Hunt: Strange Tales from a Strange Time" (1979)¢ "The Curse of Lono" (illustrated by Ralph Steadman) (1983)¢ "Generation of Swine: Tales of Shame and Degradation in the '80s" (1988)¢ "Songs of the Doomed: More Notes on the Death of the American Dream" (1990)¢ "Silk Road: Thirty-three Years in the Passing Lane" (1990)¢ "Better than Sex: Confessions of a Political Junkie (1993)¢ "The Proud Highway: The Saga of a Desperate Southern Gentleman, 1955-1967" (1997)¢ "The Rum Diary: The Long Lost Novel" (1998)¢ "Screwjack and Other Stories" (2000)¢ "Fear and Loathing in America: The Brutal Odyssey of an Outlaw Journalist, 1968-1976" (2000)¢ "The Kingdom of Fear: Loathsome Secrets of a Star-crossed Child in the Final Days of the American Century" (2003)¢ "Hey Rube: Blood Sport, the Bush Doctrine, and the Downward Spiral of Dumbness (2004)-- The Associated Press
Copyright 2018 The Lawrence Journal-World. All rights reserved. This material may not be published, broadcast, rewritten or redistributed. We strive to uphold our values for every story published.