Norman, Okla. — Oklahoma wasn't about to blow a 19-point lead in its own barn.
"When Kansas came back," OU coach Kelvin Sampson said, "we just drew a line in the sand."
Twice Kansas closed within a single point in the second half after OU dominated the first 20 minutes, but the Sooners never allowed the Jayhawks to take the lead and hung on for a 71-63 victory Monday night in the Noble Center.
"We just kept making plays," Sampson said. "When it was nut-cuttin' time, that's when our mental toughness took over. You can't have any fear out there."
Senior Johnnie Gilbert gave the Sooners a lift off the bench, scoring 12 points in 30 minutes while subbing mostly for foul-prone Taj Gray, OU's leading scorer at 14.5 points a game. Gilbert was averaging only 3.5 ppg.
Gilbert might have been the best Sooner in a supporting role, but the best performance of all came from an unexpected source -- freshman guard David Godbold.
Godbold, a lightly recruited 6-foot-5 product of an Oklahoma City high school, had 15 points and seven rebounds.
"We live in a society that worships other people's opinions, like recruiting services," Sampson said. "I liked him in high school, but I'm not very smart to think he's doing what he's doing."
Godbold was making only his fourth start Monday night. He was averaging less than four points and about three rebounds a game.
"He's a 3.5 student," Sampson said. "He doesn't miss class, and he has a great attitude."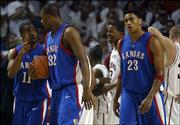 Terrell Everett, another wing-type player, also gave the Jayhawks fits. The first-year junior-college transfer stands 6-4, but was the game's leading rebounder with eight, and he also contributed a game-high 19 points, mostly by driving the lane.
"Our scouting report said that they couldn't guard us," Everett said, "and that we needed to spread the floor and beat them off the dribble. We jumped on them early, and that was a big key."
With Gilbert, Everett and Godbold taking care of business, the Sooners survived without big nights from their best big men. Gray and Kevin Bookout combined for only 11 points and six rebounds.
"We're not a one-trick pony," Sampson said. "We don't need Taj and Kevin to get double-doubles every game. The key was having good rebounding guards."
And the moxie to withstand the Jayhawks' late charge.
"We knew they would come back on us," Sampson said. "They're too good a team not to. But our kids took a stand tonight and said we're not losing this thing."
Copyright 2018 The Lawrence Journal-World. All rights reserved. This material may not be published, broadcast, rewritten or redistributed. We strive to uphold our values for every story published.