Los Angeles — Adam Scott has his name on the Nissan Open trophy.
He earned $864,000, which counts just the same if he had played 72 holes, instead of only two rounds followed by a sudden-death playoff Monday morning in the rain against Chad Campbell.
He even was nervous standing over his tee shot in the playoff on the famous 18th hole at Riviera Country Club.
But there was no denying the strange sensation Scott felt after winning the first 36-hole event on the PGA Tour in nine years, a victory that comes with a trophy, a check and an asterisk.
Scott, who made a 20-foot birdie putt a day earlier to finish his second round tied with Campbell at 9-under 133, made short work of the long week by getting up-and-down for par on the first extra hole to win the Nissan Open.
After rolling in the four-footer, Scott had to remind himself what winners do.
First came an awkward smile, then he gently raised his hand to acknowledge the 200 people watching the bizarre conclusion under gray skies and a colorful array of umbrellas.
"It doesn't feel like we played much golf this week," Scott said. "I don't feel tired and drained like you normally do when it's finally over, and you've been battling with some guy for the last 36 holes. It's been an odd week."
It was weird even after the Nissan Open finally got a winner.
The tournament was cut short to 36 holes because of heavy rain overnight that turned Riviera into the prettiest swamp on Sunset Boulevard.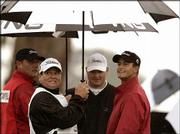 PGA Tour events have to be at least 54 holes to be considered official. That means Scott still only has three PGA Tour victories. He does not earn a trip to the winners-only Mercedes Championships next year at Kapalua, or any of the other perks that come with winning.
Scott agrees with the policy, but he found plenty of positives.
"I wanted to win just as bad as any other playoff," he said. "But it was a different feeling, for sure."
Campbell also felt the sting of losing.
He was at a slight disadvantage, having not hit a shot since he tapped in for par to complete his second round Friday with a 6-under 65. The range was closed Saturday. When he arrived at Riviera on Sunday afternoon to start the third round, the siren sounded to halt play.
He smoked his drive down the middle of the fairway in the playoff, leaving him a 5-wood. Protecting from the perilous left side of the green, Campbell flared his approach to the right. He had to take relief from a muddy puddle, chipped five feet past the hole and caught the left edge of the cup with a tricky par putt.
"You never want to get beat in a playoff," he said. "That's never a good feeling."
Scott pulled his tee shot into the rough, then pounded a 3-wood as close to the green as possible. He came up about 80 feet short, and chipped about four feet by the hole.
"A win is a win," Scott said with a shrug. "I will be called the champion, but you don't get the benefits of it. That's OK. That's just the way it is."
Copyright 2018 The Lawrence Journal-World. All rights reserved. This material may not be published, broadcast, rewritten or redistributed. We strive to uphold our values for every story published.