Moody misses game
Christian Moody missed his second straight game because of a staph infection on a floor burn on his left knee. Moody and KU coach Bill Self both said the junior forward might be able to return Sunday versus Oklahoma State.
"I definitely think I can play," Moody said. "It feels better every day."
"We need him back. We don't have anybody to throw the ball to Wayne," Self said.
Self on the skid
"We are a way's off. We're playing the worst ball we've played all year right now. In 48 hours. We've had some bad games and halves and usually bounced back and played well the next game," Self said. "This is the worst 48-hour period we've had. We can get it back. We need to get back at practice before Oklahoma State."
Wake-up call
KU's basketball players, coaches and athletic-department officials were rousted from their beds by a fire alarm at 2 a.m. Monday at the Holiday Inn in Norman.
A fire in a second-floor drier forced evacuation of the hotel.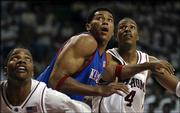 The Jayhawk players, who were on the fifth floor, exited safely down stairs into the parking lot, where they stood in various stages of bedroom attire from 2:30 a.m. until 3:45 a.m.
The team bus was summoned to take the Jayhawks to another hotel. However, that was unnecessary when the hotel was deemed safe shortly after the bus arrived.
"The alarm went on the first time, went off and on again. You could smell smoke and knew it was time to get out," said KU athletic director Lew Perkins.
"Fortunately it wasn't cold or snowy. It was about 45, 50 degrees, so it didn't cause any problems. We were all back in (beds) in little over an hour."
The Jayhawks' official wake-up call of 10 a.m. was not pushed back because of the fire hassle.
Booing not justified
Self was asked his reaction to KU's student section booing J.R. Giddens during the sophomore's 1-of-11 three-point shooting performance Saturday against Iowa State.
"Not positive," Self said. "The fans were frustrated. Certainly the players were frustrated. Coaches were frustrated.
"That's not typical of our student body. I don't want to put too much on it because I know how great our student body has been.
"Certainly that was a frustrating day. If fans do that, I wish they'd point it toward the coach because these are amateur athletes out there trying. People don't screw up on purpose, especially with stakes this high. That said, that stuff doesn't help one's confidence.
"As an athlete, and we talked about this yesterday, if you choose to play at a school with high stakes, you've got to accept the praise and every now and then when a little bit of criticism comes and that was it, very little, you've got to be willing to accept that and spin that into a positive."
Praise for Wayne
OU coach Kelvin Sampson, on KU's Simien: "He's been a great face for our conference not just because he's been a great player but also because I think Wayne Simien is the right kind of kid to represent college basketball.
"He sent a valuable message. He could have left after last year but he decided to come back and I think the more success stories we have with guys like Wayne Simien, it's just good for college basketball."
Copyright 2018 The Lawrence Journal-World. All rights reserved. This material may not be published, broadcast, rewritten or redistributed. We strive to uphold our values for every story published.