Jerusalem — Palestinians gave a jubilant welcome to 500 prisoners freed Monday by Israel as part of a truce, but many complained that uprising leaders were not among those released. Hamas militants appeared unmasked in a West Bank city, their leader shouting that there can be no peace "as long as there is a single prisoner in Israeli jails."
Suhail Abu Madala, 35, spent four years in prison and had three more years to serve when he was set free Monday.
"I cannot believe that I'm smelling the air of freedom, that I will see my family," he said, choking back tears after being reunited with brothers and sisters and his 12-year-old son, Mohammed, in the West Bank city of Nablus. "Nothing can describe my joy and my feelings."
The decision to release the prisoners led to criticism by some Israelis that the move could reignite the bloodshed that has beset the region for more than four years.
"It's true that many of them don't have blood on their hands, but it's not because they didn't try -- it's because they didn't succeed," Menachem Landau, a former commander in Israel's Shin Bet security service, told Army Radio.
Relatives of terror victims appealed unsuccessfully to Israel's Supreme Court to block the release, listing Israelis who have been killed over the years by freed Palestinian prisoners. The prisoners released Monday were not directly involved in violence, officials said.
But earlier, Israeli officials indicated they would consider freeing Palestinians convicted of direct involvement in violence, a change in its blanket refusal to release Palestinians with "blood on their hands."
Palestinians also faced internal political turmoil. Leaders suspended a session of parliament when it became clear that a new Cabinet, presented by Prime Minister Ahmed Qureia, would not win a vote of confidence.
Palestinian leader Mahmoud Abbas has been struggling with Qureia over power issues including the makeup of the Cabinet, and the crisis may be a way for him to force the prime minister to resign.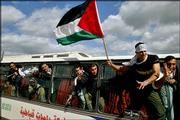 Abbas has made the prisoners a key political and emotional issue and measure of his effectiveness. His brief term as prime minister in 2003 collapsed largely over his pique at Israel's refusal to free veteran prisoners and uprising leaders.
A senior Israeli official, speaking on condition of anonymity, said the release was a goodwill gesture to strengthen Abbas. Almost every Palestinian has had a family member imprisoned by Israel at some point.
All over the West Bank and Gaza, the tearful scenes of joy played out. But again, many Palestinians not directly involved in the release were disgruntled.
Although 400 more are to be released in the coming days, about 7,000 Palestinians would still be behind Israeli bars, including leaders of the uprising. Palestinians complained that most of the freed prisoners were small-time offenders or near the end of their terms.
"There will be no peace as long as there is a single prisoner in Israeli jails," Hassan Yousef, West Bank leader of the Islamic militant group Hamas, shouted through a bullhorn.
Copyright 2018 The Associated Press. All rights reserved. This material may not be published, broadcast, rewritten or redistributed. We strive to uphold our values for every story published.