Daytona Beach, Fla. — Jeff Gordon celebrated his third Daytona 500 victory aboard his 106-foot yacht, the 24 Karat.
The four-time NASCAR champion is rich beyond imagination, has Hollywood good looks, and is an A-list celebrity who is just as comfortable hosting "Saturday Night Live" or visiting "Live with Regis and Kelly" as driving his No. 24 Chevrolet.
Besides the yacht that was anchored just minutes from Daytona International Speedway last week, Gordon flies around in a private plane and has several homes.
Yet, for all his riches and fame, Gordon still is interested in the basics.
"You know, I learned quite a while ago that it's not racing that I love," Gordon said, "it's winning."
And he's done plenty of that.
His victory Sunday was the 70th of his career and is within six of Dale Earnhardt. Only six drivers in the more than half century of NASCAR racing have won more than Gordon.
"Seventy!" he said, relishing the sound. "I wanted to get to 70. That seemed like a good number."
To do it, Gordon had to outrace defending champion Dale Earnhardt Jr., former series champion Tony Stewart, who led a race-high 107 laps, and reigning Nextel Cup champ Kurt Busch.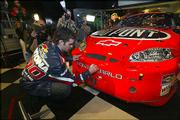 "Those are the moments that you live for, the moments we get paid the big bucks for," Gordon said. "You live to be in that position, to have chaos happening all around you, for your car to lead the pack.
"I enjoy being in that position. Being out front is the only place to be. I wanted that checkered flag really bad. I looked in my mirror and did everything I could."
What he saw in the mirror on the last two laps was Busch trying to close the gap by staying behind Gordon's rear bumper and coming up about two lengths short.
"I saw some video of the finish and saw how much momentum Busch had," Gordon said. "I'm really thankful he didn't try to go to my outside because I think he had the momentum to do it."
Busch doesn't want to think that he blew a chance for his first Daytona win.
"I had that butterfly in the stomach feeling of 'I've got a shot at winning the Daytona 500.' But I wouldn't have cleared him if I would have went to his high side," Busch said. "I know I wouldn't have. I'm going to stick with that in my mind and be happy with that decision. I'm not going to kick myself."
In the end it was Gordon who enjoyed the spoils.
Copyright 2018 The Associated Press. All rights reserved. This material may not be published, broadcast, rewritten or redistributed. We strive to uphold our values for every story published.