Norman, Okla. — A three-game losing streak isn't just unusual for Kansas University senior power forward Wayne Simien.
It's unprecedented.
"Not in my career ... ever," Simien said after the Jayhawks fell to Oklahoma, 71-63, Monday night at Noble Center, assuring the program its first three-game skid since the 1993-94 season.
"Last year, we were up-and-down, but we'd win one. I can't remember losing three in a row before in anything in my life. It's different."
It meant nothing to Simien and his fellow seniors that the Jayhawks (20-4 overall, 10-3 Big 12 Conference) sliced a 19-point first-half deficit to one in the second half before fading again to a gritty OU team (20-6, 9-4) in the final minutes.
Simien had 17 points off 7-of-13 shooting, Keith Langford had 16 points, Aaron Miles collected 12 points, six assists and six turnovers, and Michael Lee had two turnovers in nine minutes.
But all those four seniors cared about was the fact they had gone from unbeaten in the Big 12 to a second-place team with three losses in the span of seven days.
"Definitely," Simien said, asked if the seniors should take responsibility. "We're the leaders of this team. We know what it takes. We've got to be the backbone. We haven't been that the last three games."
Point guard Miles said the seniors would need to get together to talk about righting this floundering, if not sinking, ship.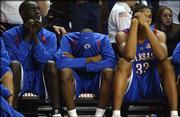 "I think we might have to talk as a senior class," Miles said. "As captains, talk about how much it really means to us. It means a whole lot. We've got to talk about what we're willing to do at practice, just to help everybody else keep their heads up and know we're still capable of achieving our goals.
"We've lost three straight, but we're still a good team. We can be a great team as long as we believe that."
Self said he as coach and the senior players needed to take full ownership of this losing streak, mostly made possible Monday by a first half in which KU committed 11 turnovers and had just three assists while taking just 19 shots and hitting nine.
OU, which stormed to leads of 18-6 and 34-15, hit 51.7 percent of its first-half shots while dishing 11 assists against four turnovers.
19KU's largest deficit, late in the first half1KU's deficit twice in the second half8:15KU's assist-to-turnover ratio; OU had 14 assists to 11 turnovers
"I don't think it's 'the guys.' My personal opinion I think it's the seniors," Self said. "Our team like every team ... a team is only as good as the seniors.
"When a team is playing well, usually the seniors deserve most of the credit. When teams are not playing well, seniors have to shoulder the responsibility with the coach.
"I think it's me, and I think it's the four seniors to drag these guys along. I don't think ... we shouldn't be worried about making sure that other guys do their job until we make sure we're doing our job themselves. When we do our jobs, I think the other guys will follow."
If the seniors take that as a challenge to improve -- so be it.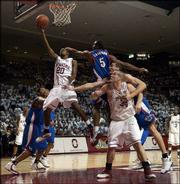 "They've just got to step up," Self said. "Everybody has to shoulder responsibility, but this is their last chance. They've got to make sure they are doing everything they can do ... it's not a situation saying we've got to get everybody fired up. They are four of the six, as far as playing minutes. They have got to get themselves going, too."
The Jayhawks showed some guts on the road in cutting the 19-point deficit to one with five minutes left. KU trailed by two points after a J.R. Giddens 12-footer with 4:27 left, but that's when OU won the game courtesy with a 6-0 run.
Kevin Bookout put in an offensive rebound, and, after Langford missed a free throw, Taj Gray hit two free throws. After a Langford miss, David Godbolt also put in an offensive rebound for the Sooners, who led 60-52 at 2:33.
"To trail by 17 or whatever it was ... it makes it tough to come back in somebody else's house," Langford said. "When it happens like that, the home team has the advantage."
"We played terrible the first half, that was the problem," Miles noted. "They did a great job of pressuring us, and we were awful against pressure. We were like little biddyball players against college men. The second half we competed."
Now the question is, will the seniors do what it takes to right the ship in time for Sunday's 3 p.m. home game against first-place Oklahoma State.
"We've been in this position before," Langford said. "We had eight losses last year going in the tournament. This team has always dealt with adversity well, and we will have to respond to it again."
Copyright 2018 The Lawrence Journal-World. All rights reserved. This material may not be published, broadcast, rewritten or redistributed. We strive to uphold our values for every story published.