When it comes to storm safety, Jane Graves is afraid Lawrence city commissioners are going to insist on learning the hard way.
Graves is the chief advocate for a proposal to require all new single-family construction in Lawrence to have at least storm shelters to better protect residents from tornadoes and severe storms.
The proposal is expected to run into a stiff head wind when commissioners consider it at their meeting tonight. The city's Building Code Board of Appeals in September unanimously recommended that commissioners reject the idea after the home building industry said the shelters would add too much to the cost of a new home.
But Graves is convinced city leaders someday will believe her idea is a good one if a Lawrence tornado leaves death rather than just destruction in its wake.
"If a lot of people had been killed in the 2003 tornado, everybody would have been about this proposal," Graves said. "They would have said the money is no big deal. Unfortunately, for some people it takes a little bit more to happen before they get behind an idea when money is involved."
Graves began advocating for the storm shelters after a May 2003 tornado damaged several homes in the city. At the time, she and her family lived in a home without a basement, which is commonly called a slab home. She said it took her more than seven minutes to get three blocks to a neighbor's house that had a basement during the storm.
Bobbie Flory, executive director of the Lawrence Home Builders Assn., estimated that a storm shelter built to Federal Emergency Management Agency standards would add $5,000 to the cost of a new home. A basement would increase the cost of a new home by at least $20,000.
Flory said the association also had found no community that mandated the construction of storm shelters. The Building Code Board of Appeals said in its recommendation that it also had not found a city that required storm shelters.
City Commissioner Sue Hack said the costs were a concern to her.
"What struck me is that one of the comments in support of this was that slab houses are all that some families can afford," Hack said. "But if we mandate storm shelters, that just adds to the cost of those houses. Those costs don't get absorbed by anyone other than the homeowner."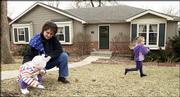 Graves said she was not convinced a storm shelter would add $5,000 to the cost of a new home.
"I'm just wondering where they came up with that figure," she said. "I'm not sure the issue has been fully considered by the city."
Graves said she hoped commissioners would continue to study the issue, even if they are not ready to mandate shelters in all new residential construction. For example, she said the city could consider mandating storm shelters for mobile home parks and apartment complexes. She also wants the issue of storm shelters considered for new school buildings.
The city's Board of Building Code Appeals did not study nor make a recommendation on whether the shelters should be part of mobile home, apartment or school developments.
Mayor Mike Rundle said he also had questions about the city's process for studying the issue. He said he thought the issue was worth further consideration.
"In general, I think it is still a good idea," Rundle said. "We need to provide for the public safety somehow. When we have these issues come up, we need to start having them considered by a more well-rounded task force. You are always going to get a negative response from the home builders who are looking solely at their bottom lines."
Flory said the home builders "enthusiastically" supported building codes that protected the public's safety but thought the proposal would further reduce the ability of some families to buy a home in Lawrence.
City commissioners will consider the issue at their meeting at 6:35 tonight at City Hall, Sixth and Massachusetts streets.
Copyright 2018 The Lawrence Journal-World. All rights reserved. This material may not be published, broadcast, rewritten or redistributed. We strive to uphold our values for every story published.