Atlanta — ChoicePoint Inc., under fire for being duped into allowing criminals to access its massive database of personal information, said Monday that consumers in all 50 states, the District of Columbia and three U.S. territories may have been affected by the breach of the company's credentialing process.
The data warehouser also announced plans to rescreen 17,000 business customers to make sure the customers are legitimate.
The Alpharetta, Ga.-based company said it had hired a retired Secret Service agent to help revamp its verification process. It also has paid for a one-year subscription to a credit monitoring service for each of the 144,778 people that may have been affected by the breach.
The company said the smallest number of possible victims -- two -- was in the U.S. Virgin Islands, while the largest number -- 34,114 -- was in California. People in Puerto Rico and Guam also may have been affected.
In Kansas, the company said, 1,613 people may have been affected.
Formed in 1997 as a spinoff of credit reporting agency Equifax Inc., ChoicePoint has 19 billion public records in its database at its suburban Atlanta headquarters, including motor vehicle registrations, license and deed transfers, military records, names, addresses and Social Security numbers.
The company acknowledged last week that thieves apparently used previously stolen identities to create what appeared to be legitimate businesses seeking ChoicePoint accounts. The bandits then established 50 accounts and received volumes of data on consumers, including names, addresses, Social Security numbers and credit reports.
The ring, which operated for more than a year before it was detected, used the information to defraud at least 750 people, according to investigators in California.
ChoicePoint said it was almost done notifying by mail all of the potential victims. California authorities have said as many as 500,000 people may have been affected, but ChoicePoint disputes that number.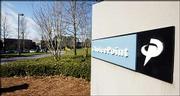 "All I can tell you is our number is roughly 145,000, and we know that we're over-notifying," said James Lee, ChoicePoint marketing director. "There will be duplications in there."
Last week, attorneys general in 38 states demanded ChoicePoint inform all affected consumers that they might vulnerable to identity theft amid concerns the company was foot-dragging. Politicians also have become involved, with two U.S. senators calling for hearings and stepped-up regulations to protect consumers.
As for the rescreening, ChoicePoint said any business that was not publicly traded or not a government agency would have to be recredentialed to use its services.
"It will involve the revalidation of any information they previously provided as well as requests for additional information," Lee said. "Certain customers will receive site visits, but I can't be more specific than that because we don't want to reveal too much."
ChoicePoint Inc. says that 144,778 people may have had their personal information compromised as part of a security breach at the company. Of those, 1,613 people at risk are Kansas residents, the company said Monday.Kansas ranks No. 25 on the list.Affected people are to receive a written letter from ChoicePoint. The letters include a toll-free phone number. Affected people are being encouraged to check their credit reports for suspicious activity.
Copyright 2018 The Associated Press. All rights reserved. This material may not be published, broadcast, rewritten or redistributed. We strive to uphold our values for every story published.