Los Angeles — Mudslides trapped people in their homes Monday and forced others to flee as Southern California was soaked by yet another of the powerful storms that have pounded the region this winter.
At least four deaths were blamed on the weather.
Rescuers pulled three people from about 10 feet of mud that flowed into a town house in Hacienda Heights, a suburb east of Los Angeles. One woman was flown to a hospital while the other two escaped with only minor injuries, said Los Angeles County Fire Capt. Mark Savage.
That same mudslide had forced the evacuation of 30 people from five units at the complex, as well as residents of five homes on the hill above it, Savage said.
The latest batch of rain, snow and hail started battering the region Sunday, part of a series of storms that arrived Friday and was expected to continue into today.
Northern California was hit by severe thunderstorms, hail and a pair of tornadoes Monday afternoon, causing minor damage in Yolo and Sacramento counties.
Since Thursday, downtown Los Angeles has gotten about 6.5 inches of rain. The city's total since July 1, the start of the region's "water year," has reached 31.40 inches, making it already the fifth wettest on record, said weather service forecaster Bruce Rockwell. The record, 38.18 inches, was set in 1883-1884.
Besides the mudslide victims in Hacienda Heights, mudslides and flooding chased about 30 people from 11 homes in Glendale, north of downtown Los Angeles, officials said. Three homes on an unstable hill were evacuated in nearby Pasadena and up to 10 homes were flooded in Fullerton.
Early Monday, a mudslide killed one man in a house in the city's Woodland Hills area in the San Fernando Valley, coroner's office officials said. In Orange County, a 16-year-old girl was killed by boulders that crashed into her family's apartment in a rural area east of Irvine, said Joseph Luckey, supervising deputy coroner.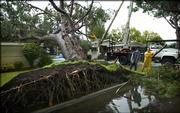 In Los Angeles' Sun Valley area, a repair worker died late Sunday when he fell into a 30-foot-deep sinkhole created by the storm, said Fire Department spokesman Melissa Kelley.
In northern California, a woman died in an avalanche Sunday in rugged back country north of Lake Tahoe, where as much as 20 inches of snow had fallen since Thursday. Two other skiers escaped after they were trapped, officials said.
In the coastal community of La Conchita, where a landslide killed 10 people last month, six of the 39 people still living there elected to leave during the night because of the heavy rain and a steady flow of mud on the bluffs behind the town, said Ventura County Sheriff's Capt. Bill Flannigan.
Copyright 2018 The Associated Press. All rights reserved. This material may not be published, broadcast, rewritten or redistributed. We strive to uphold our values for every story published.