Clearwater, Fla. — Unless a court grants her parents another delay, Michael Schiavo plans to remove the feeding tube keeping his wife alive early this afternoon, allowing the severely brain-damaged woman to die.
An attorney for Michael Schiavo said he was authorized to remove the life support for his wife, Terri, as soon as the 2nd District Court of Appeal issues an order that finalizes its last ruling against his in-laws in their seven-year legal battle to keep their daughter alive.
On Monday, the Lakeland court said it would release the order, known as a mandate, at 1 p.m. Tuesday.
Exactly what the order will say could prove critical. But Michael Schiavo's attorney was confident it would be a perfunctory ruling sending the case back to the trial judge, who has repeatedly ruled that Terri Schiavo would reject the artificial life support that has kept her alive for 15 years.
If so, attorney George Felos said, Michael Schiavo will immediately withdraw his wife's feeding tube.
It will not happen, however, without a fight from Terri's parents, Bob and Mary Schindler. Their attorney adamantly disagrees that Michael Schiavo can have his wife's artificial feedings discontinued without another court order and vowed to seek contempt charges against them if they proceed.
David Gibbs made that promise Monday, after Felos rejected what Gibbs described as his "personal and polite plea" to wait at least a day to withdraw the tube. Gibbs also filed an emergency request asking Pinellas Circuit Judge George Greer to bar the tube's removal until the Schindlers resolve several long-standing issues they have pending in his courtroom.
Now 41, Terri Schiavo has been in what the courts have ruled is a persistent vegetative state since she collapsed in her Clearwater apartment 15 years ago, enduring precious minutes without oxygen.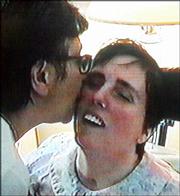 She never wrote down her wishes in the event she became incapacitated. But her husband, who later became a nurse to care for his wife, said she made it clear in casual conversations that she never wanted to be kept alive artificially.
"This is a woman who said, 'no tube for me,' yet she's being force-fed," Felos said. "That is cruel and inhumane."
Her parents vehemently disagree. They contend their son-in-law didn't mention his wife's wishes until he won more than a $1 million in a medical malpractice case. The money is now all but gone, but, as her beneficiary, they say he had a conflict of interest in seeking her demise.
Copyright 2018 The Lawrence Journal-World. All rights reserved. This material may not be published, broadcast, rewritten or redistributed. We strive to uphold our values for every story published.