Moderator: Welcome to today's chat with Mike Amyx. We've already received numerous questions, so we'll go ahead and get started.
The chat took place at 2:45 p.m. on Monday, Feb. 21, and is now closed, but you can read the full transcript on this page.
Joey, Lawrence: Lawrence currently has a unique and thriving downtown. As a downtown business owner, do you think the big-box and chain stores being built on Iowa will have an impact on locally owned downtown businesses in the future?
Mike Amyx: Absolutely, I think that there's only so much of a piece of the pie. Every time we divide it, there's that much less for current business.
Chris, Lawrence: Would you agree to some kind of compromise to the ban of setting off fireworks inside city limits? Or even just putting it to a city vote?
Mike Amyx: I will look at anything. We need to understand that when I was a kid, we always celebrated July 4 with fireworks, but Lawrence was smaller than today. Also, the fireworks have gotten so much bigger than they were when I was young. This along with all of the new housing makes me question the safety. But again, if someone has a compromise, I would be willing to listen to it.
Lisa, Lawrence: I own a small business on the east edge of downtown Lawrence near the Salvation Army and have been following with great interest the newspaper (LJW and Lawrencian) articles concerning the homeless. Do you have any possible solutions on how to work with the homeless and local shelters to address the concerns that have been raised during this debate?
Mike Amyx: I believe that we should continue the current level of funding to help the agencies who provide overnight assistance for homeless individuals. I think that we do have a situation in downtown where we have some individuals who are bothering shoppers and store owners; we need to do something to take care of this. I would want to visit with DLI and other merchants in downtown about existing problems and how best to take care of these problems. Also, include people from adjacent neighborhoods.
Dick - Lawrence: Lawrence needs to be looking at higher-paying jobs, so would you support the light industrial site in southeast Lawrence as well as provide an idea to pump more economic growth from existing resources?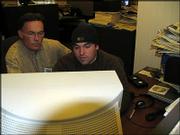 Mike Amyx: Yes, I would. I do know that there is a current plan being discussed by the planning commission. One of the things that concerns me about this plan is the size and how we are putting all of our industrial land for development in one area. Another thing that I think we should be looking at is the current co-op plant. I don't know the availability totally, but do believe that it being on a major entrance to our city with infrastructure in place it is something to consider. I also think that we should always help existing business any chance we can in providing additional jobs.
Matt, Lawrence: Currently downtown Lawrence is struggling, a combination of rising rents, poor parking and the city smoking ban. Yet West Lawrence has so many zoning restrictions people are hesitant to move their business to that side. What would you do to make a less hostile environment in Lawrence.
Mike Amyx: First of all, as a business owner and property owner in downtown Lawrence, I share a lot of the same concerns that you have. I do know that I have to pay higher rents, and we do need to be looking at a better parking situation downtown as long as we take into consideration the concerns of surrounding neighborhoods. The smoking ban is something that I've had to deal with since the middle '80s in my business when the original ban started. We've been able to make changes in our business, hopefully for the good of all. As a smoker, I share a lot of the concerns that a number of the businesses are having, but believe that the ban will be good for all in the end. I think that we should help existing businesses with site planning and other tools available from City Hall to help with outside smoking areas. As for the other parts of town and the zoning restrictions, I think that my goal is to sit down with people and try to work through a lot of these situations, and try to make us business friendly.
Randy-Lawrence: What are your views on the smoking ban? I work in a bar and I have seen the effects from the ban since it has been put in place. I agree with it in a lot of aspects, but if it is a bar were only adults over the age of 21 are going, knowing 99 percent of all bartenders smoke, I don't see how it's OK to drink and damage your liver and brain cells. But if you would like to smoke, sorry, you're not allowed.
Mike Amyx: As a smoker, at first I was one who signed the petition to place it on the ballot for vote. This obviously did not happen, and now I've had time to visit with numerous people who have told me that they really enjoy having the ban in place. I believe the ban has become very popular and believe that a majority of people want to have it remain in place. My original idea would have been to have it be allowed in places that are just bars, where no food is served. I think that this idea may have been considered, but wasn't looked at enough. I've always said that everyone has to eat, but we choose to have a drink.
Mark, Douglas County: What do you think about Lawrence trying to grow faster than it can keep pace with itself?
Mike Amyx: I am a big supporter of managed growth. This is the only way that our city can keep up with the demands on new infrastructure and not allow our existing services to not be maintained. If we don't plan, then we will have problems for years to come in any type of development whether it be infill or new.
Ray, Lawrence: Mike, what, if anything, would you do about fixing the potholes in the streets?
Mike Amyx: Public works is currently trying to keep up with the problem of potholes. One problem is the weather hasn't been very helpful. Since this is an annual problem, I think we should look at how to make these repairs the top priority this time of year. I will visit with the city manager to see if he will be able to put this program in place.
Mike, Lawrence: It seems like the only place left for affordable housing is east Lawrence land, so why would they make 680 acres industrial that will never fill in 500 years? What can you do to help?
Mike Amyx: Affordable housing is truly a problem in Lawrence. I am afraid that if we don't respond to this question immediately there will be no way to truly provide affordable housing for anyone in the future. The amount of land you bring up that is being talked about for industrial is another reason why we should not try to place all of our industrial land in one location. I think that there has got to be other areas that we do not lose the possibility for affordable housing and still be able to meet our needs for new industrial ground.
Pete: Do you believe we need to build more apartments? Everywhere you drive in Lawrence, apartments are everywhere.
Mike Amyx: There are a lot of apartments in the community. It seems like over the last 40 years, the number of apartments have exploded. When we look at building strong neighborhoods I think that we need to be looking at what our needs are for housing. Single family houses and multiple family houses sometimes don't work well together, whether it be because of traffic, or any other situation, we must do a better job of planning.
John, Lawrence: Mike, What would the chances be of getting a decent grocery store planned for the people of North Lawrence? Would that be considered any kind of "smart growth"?
Mike Amyx: I would do whatever it would take to help get a grocery store in North Lawrence. When I was a kid, we lived in North Lawrence and I remember walking or going with my mother to the store, and I know that it is a hardship for those affected. I would hope by definition this would be considered "smart growth."
Moderator: This is our last question of the chat.
Jill, Lawrence: What is your position on expanding the Lawrence Public Library?
Mike Amyx: First, I would like to say that I am a supporter of the public library. My family has always enjoyed the service that is provided by our library. I think it is very important that we work to expand our library in downtown Lawrence. I think it's a wonderful addition to the downtown area. There are numerous plans that exist for improving the library and I will look at all of the very closely.
Mike Amyx: Thank you all for your questions, this has been a great time. I want to thank my son for typing the best that he could. I would appreciate your vote on March 1st.
Moderator: We'd like to thank Mike Amyx for taking part in today's chat and we'd like to thank our readers for submitting so many questions.
Our next chat with a city commission candidate will be at 1:30 p.m. Tuesday with incumbent City Commissioner Sue Hack.
Copyright 2018 The Lawrence Journal-World. All rights reserved. This material may not be published, broadcast, rewritten or redistributed. We strive to uphold our values for every story published.