Denver — The Shaq Shoe Phone was not the most outrageous thing displayed at the NBA All-Star game.
That distinction belonged to The Big Entertainer himself.
Primping, preening, playful and preposterous, O'Neal gave the league's showcase event a supersized dose of personality -- though he wouldn't go so far as to do it while wearing that size-22 phone.
For the second straight year, O'Neal made people laugh, applaud and appreciate his oversized way of doing everything, infusing Sunday night's otherwise nondescript All-Star game with just the right amount of precociousness.
He danced as he was introduced, struck a pose before missing a foul shot and goofed with the rap stars and hip-hop artists who lined the front-row seats across from the Eastern Conference bench.
All that showmanship didn't win O'Neal MVP honors -- that award went to Allen Iverson, who had 15 points, 10 assists and five steals as the East beat the West, 125-115. But if MVP stood for Most Vibrant Personality, this one was a runaway decided squarely in favor of the 360-pound, 7-foot behemoth who was making his 12th appearance in the league's showcase event.
"When I was young I was on punishment a lot and I used to watch a lot of TV, and I asked myself a question: "How come people like Mike? How come they like Magic? How come they like Bird? How come they don't like the big guys?" O'Neal said, referring to former stars Michael Jordan, Magic Johnson and Larry Bird.
"So I just throw a little bit of what they were doing. You smile, you act crazy and silly. And I think people like me because I'm different. I've always been a class clown type of guy. It comes natural."
O'Neal finished with 12 points, six rebounds, three blocked shots and three steals.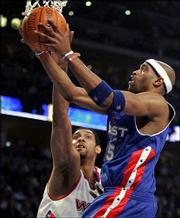 His showmanship displays came after he unveiled his size-22 red and white shoe phone in the locker room before the game. An actual working telephone mechanism is built into the sneaker, and an antenna pops out near the toes.
"It's big, you can take it anywhere, make people look at you," O'Neal said. "And it prevents muggers. Kick them right in the (behind) with that Shaq shoe phone.
"There's an addition at the top where you can pull out the strings and make it a Shaq-shoe handbag and phone all-in-one."
The silliness O'Neal displayed and the reception he received were in stark contrast to the way things went for his former teammate, Kobe Bryant.
Bryant finished with better numbers and was the most intense player on the court during the fourth quarter, but this show was clearly not his.
Bryant, who was accused of rape in Colorado two summers ago before the charges were dropped last September, was the only player booed during pre-game introductions. O'Neal, Iverson and Vince Carter received the loudest ovations, and O'Neal played to the crowd by strutting down the runway wearing a huge smile.
"Leave it to Shaq to do something like that," teammate Dwyane Wade said. "He's always doing something to keep fans involved."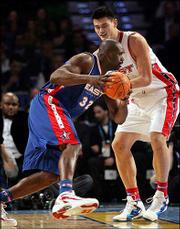 O'Neal and Bryant ignored each other but exchanged hugs and hand slaps with the other starters as the players stood at the center circle for the opening tip. They first came into contact with each other midway through the quarter when O'Neal poked the ball away from Bryant as he drove, only to be called for a foul.
O'Neal nearly howled in disgust, yet another of the many contortions his face and body made throughout the night.
"I'm not going to make this weekend about me and Shaquille. That's not fair," Bryant said. "Even when we played together we weren't the best of buddies. People need to leave that in the past."
When O'Neal went to the free-throw line in the first quarter after driving around Yao Ming and dunking, he held the ball in his right hand, placed his left hand on his hip -- striking a pose, as the fashionistas say -- as he shot the ball one-handed.
Naturally, given O'Neal's history as a poor foul shooter, he missed.
"You don't need to watch him a lot to see his personality come through. He's got a great deal of charisma, he obviously just loves life, and he makes it fun for everybody around him," East coach Stan Van Gundy said of O'Neal.
LeBron James and Iverson teamed up on the prettiest play of the first quarter, an alley-oop dunk by the 20-year-old Cleveland guard who became the second-youngest All-Star starter in NBA history.
Bryant wowed the crowd late in the second quarter by reaching behind his head to catch an alley-oop pass from Steve Nash and slamming it through. Bryant had 16 points, seven assists, six rebounds and three steals.
But by far the best dunk of the first half came when Carter drove the middle and tossed the ball hard off the backboard before catching and jamming it with two hands.
Wade had a breakaway reverse dunk early in the final period to put the East ahead 102-93. After Bryant hit a pair of 3-pointers to close the West to 110-105, Shaq bounded off the bench and returned. The West never pulled closer, and the game ended with O'Neal getting to attempt a 3-pointer.
It missed, but it didn't matter. The showman had gotten the last moment in the spotlight.
"That's what this game is about, it's for the fans," Ben Wallace said. "Just relax and enjoy yourself, give the fans something to cheer about, and that's what he did."
Added Shawn Marion: "Shaq is a big kid. I love having anything to do with him."
Notes: Ray Allen led all scorers with 17 points. ... The U.S. national anthem was sung by the U.S. Air Force Academy choir. West coach Gregg Popovich attended the academy and coached there. ... Bryant will miss the Lakers' practice Monday to fly to Philadelphia after the death of his paternal grandfather, Joe Bryant. The Lakers' next game is at home Tuesday night against Boston.
Copyright 2018 The Associated Press. All rights reserved. This material may not be published, broadcast, rewritten or redistributed. We strive to uphold our values for every story published.