Three days ago, chances are no one in Lawrence would have thought that the only time the "Rock Chalk" chant filled Allen Fieldhouse over the weekend would be at Sunday's Kansas University women's basketball game against Nebraska.
Well, it happened, and, boy, did the Jayhawks earn it, thumping the Cornhuskers, 67-53. The victory marked the first time KU has won five conference games since 2000-01.
KU coach Bonnie Henrickson called the game her team's most complete victory of the season. Kansas shot, defended and rebounded well, and the fruits of those efforts showed on the stat sheet. What didn't, though, was the level of energy and intensity the Jayhawks displayed that was nowhere to be seen in Wednesday's home loss to Texas Tech.
"We had a little heart-to-heart at the shootaround today about what are we playing for," Henrickson said. "We understood that Nebraska was trying to tie K-State and go 9-4, but we're playing for something here -- program pride. I thought we played with a purpose today."
Where the extra aggressiveness most was visible was on the left elbow and forearm of KU senior guard Aquanita Burras, who, following the game, proudly brandished her fresh battle wounds.
Henrickson compared Burras' defensive style to that of a linebacker, and she displayed a gridiron mentality. Aside from her 10 points, Burras totaled seven rebounds and three steals.
Truth is, most of the players probably had similar wounds, as the Jayhawks (12-12 overall, 5-8 Big 12 Conference) quite possibly played their most aggressive defensive game of the season, constantly cutting off passing lanes and diving for loose balls.
"When you see someone diving on the floor, that brings a lot of excitement for us," Burras said. "I'm really happy that we all did our part and came out with a victory."
For the first 15 minutes, the two teams pretty much swapped baskets. The Jayhawks, who came into the game with a focus on slowing down NU's guard-forward combo of Kiera Hardy and Danielle Page, limited easy hoops under the basket.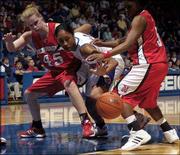 KU held Page to just five points, and Hardy to just two points in the first half. The latter, the conference's second leading scorer, finished with 13, but many of her 11 in the second half came with the game out of reach.
Kansas finally broke out with 5:22 remaining in the first half when junior guard Erica Hallman ran a beautiful fast break off a steal, finding junior forward Crystal Kemp for a layin. She was fouled in the process and completed the three-point play.
On the next possession, Kemp grabbed the ball from NU point guard Jina Johansen, fed Hallman who subsequently hit Burras for another Jayhawk bucket. The score gave Kansas a 23-16 lead, and it was all Jayhawks from then on.
KU opened the second half with a 17-6 run, and inflated its lead to as many as 23 points.
The majority of the second half simply was the Jayhawks adding some polish and flair -- Hallman, most notably. The KU point guard finished with a career-high 22 points, including a 5-of-10 performance behind the three-point line.
"It felt good tonight," Hallman said. "I felt good, but I was due. I've been getting some open looks, but they just haven't been going down lately."
On her final three of the afternoon, Hallman left her hand in the air and struck a pose in front of the KU bench, showing the swagger of a team that knew it was in the process of dominating one of the conference's up-and-comers.
Hallman was one of four Jayhawks to score in double figures. Aside from Burras' 10, junior guard Kaylee Brown had 14 points and Kemp had 11 points to go with her 11 boards.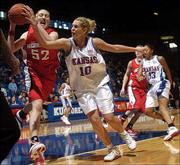 And the victory couldn't have come at a better time. Beginning with Wednesday's senior night matchup against No. 7 Baylor, Kansas finishes against three ranked opponents.
"We're foolish enough to think we have a chance every single night," Henrickson said. "We understand what's staring us in the face at the end of the season. But there was no talk about anything other than a gameplan on how to beat Nebraska today."
Copyright 2018 The Lawrence Journal-World. All rights reserved. This material may not be published, broadcast, rewritten or redistributed. We strive to uphold our values for every story published.