Two men were arrested Sunday by Lawrence Police after an investigation into a shooting incident at a south Lawrence apartment complex.
Police found a man suffering from a gunshot wound to the ear and a woman with a cut to her head after they responded to a shooting report about 8 a.m. in the 1800 block of West 26th Street.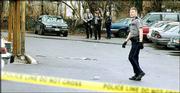 Both victims were taken to Lawrence Memorial Hospital, where they were treated and released, police said.
Police obtained information about two suspects and found them in the area of the shooting, according to a police news release.
A 36-year-old Lawrence man was arrested for striking the woman with a glass bottle and was booked into the Douglas County Jail on suspicion of aggravated battery. The second man, 44, also of Lawrence, is suspected of firing the gunshot and was booked on suspicion of attempted murder.
During a search police recovered a gun and a glass bottle they think were used as weapons. Formal charges were pending, and no other information was released late Sunday night. Police referred additional questions to the Douglas County District Attorney's Office.
Copyright 2018 The Lawrence Journal-World. All rights reserved. This material may not be published, broadcast, rewritten or redistributed. We strive to uphold our values for every story published.